These add-ons are free Warehouse Views, Charting Views, Filters, Combo Ranks provided by various sources. Contact the source shown for how to use them.
Instructions for doing Add-ons: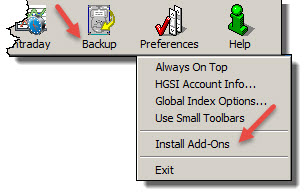 Use HGSI Backup before installing
Download Add-on ZIP file from list below
Follow browser download instructions
Under HGSI Preferences select "Install Add-ons"
Navigate to your download ZIP file
Select the ZIP file you just downloaded
Click the Open button to install the ZIP file
HGSI closes and installs the Add-on
HGSI restarts with Add-on installed
Cautions:  Add-ons to the HGSI software are always "installed" using the "Install Add-ons" command shown above.  Do not open the zip file and use the HGSI "Import" command.
Add-ons overwrite files.  If you have customized the settings of any of the previously installed add-on filters, chart views, warehouse views, or combo ranks and DID NOT CHANGE the file name it will be overwritten and your changes will be lost.
Select the add-on to download:
User SmartGroups
Installs the HGSI System-SmartGroups as User SmartGroups
Use the HGSI Backup before installing
Source: hgs@highgrowthstock.com
Charles Kirkpatrick
Use the HGSI Backup before installing
Source: Book Invest By Knowing What Stocks to Buy and What Stocks to sell
Larry Connors
Use the HGSI Backup before installing
Source: Book High Probability ETF Trading
Ron Brown's Basic End of Day and Intraday Filters, Views, Combos
Use the HGSI Backup before installing
Do not install by opening the ZIP file. Install it using the HGSI Preferences Menu ADD-ON feature
Author: ron@highgrowthstock.com
Ron Brown's Market Analysis User Groups
These groups were formerly known as WB User Groups
Use the HGSI Backup before installing
Do not install by opening the ZIP file. Install it using the HGSI Preferences Menu ADD-ON feature
Author: ron@highgrowthstock.com