Ron Brown Investing Fall 2016 Online Educational Webinar Series
In this 6 week educational webinar series he will be teaching you the methods he uses for his own portfolio.  Ron teaches by making real trades during the webinar using his own money.   In this series you will learn and apply to your own portfolios, Risk Control, Position Sizing, Low Risk Entries, Trade Reactions, Trend Trading with the Moving Average Fan.
If you are already a follower of Ron this webinar will deepen your understanding of how he goes about making money.  If you have heard about Ron and want to start following him then this educational webinar series is your entry point.
There are twelve 1:15hr webinars, approximately 14 hours of training, distributed over a 6 week period on Tuesday and Thursday from 3:45 to 5pm ET.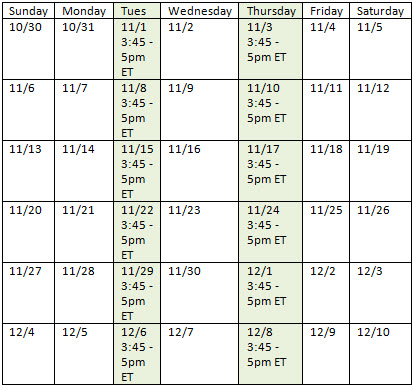 Prices for 14 hours of training by Ron Brown:
$595 for new attendees
$495 for current subscribers to Ron Brown's HGSI Monthly Insider Report or to Ron Brown's Daily Market Analysis Morning Report
$100 for previous webinar attendees
Some Testimonials from past attendees:
HGSI is great at finding the right stocks.  My dilemma has always been when and how to buy them:  Ron's course/methodology has completely solved that problem.
His risk reducing methodology is very profitable for me thus far (of course, an upward tilting market has helped a lot), secondly, the webinar format allows one to attend when they want/can and the video always one to redo if there are points that one wants to study more slowly.
I used the video to make changes to charts and filters to match my style but his new charts and views are wonderful.  His 94% return on risk was matched by me during the webinar and I could not be happier with the results thus far. This morning I entering some buy stops and I chose to ignore one on my list of potential buys because Ron was "in my ear" saying that one is too much risk.  Finally, Ron is amazingly tolerant of answering the same question multiple times.
Best $$ I have ever spent and he is right that this webinar method is much better than Palos Verdes from an education perspective (not as much fun from a social perspective though)
Thanks Kerry
---
Ron's Webinar was educational and very helpful.  He was able to share his newest trading methods and techniques with us easily and quickly.  With the shorter sessions of a bit over an hour long, it was easier to stay focused on the material.  The final session really wrapped everything up in one package, covering all the webinar basics.  The question and answer periods before each webinar gave everyone a chance to get all questions answered.  The VPOC and VPA techniques shown look like a great trading system.  It all simply makes a lot of sense, and controls the risk.
Sarah
---
The webinar series was very good.
Ron's organization and communication skills are excellent.
There was always an intention in what was being presented.
The consistent updates with new charts and scans were very helpful. Being able to apply the concepts via scans added great value to the teachings.
Ron had a small trading account and traded live throughout the webinar series. He was walking his talk and it was enjoyable to follow along.
I highly recommend Ron's services and the HGSI software. A winning combination.
Kind regards,
William
---
I wanted to thank you for your efforts these last six weeks or so. I have enjoyed my time listening to you and have found this experience to be instructive. I have made some money and feel that I am better able to identify winning stocks. My ability to trade is demonstrably improved. (That didn't help me yesterday, however….)
Feedback:
I liked your step-by-step process of reviewing markets and stocks. VERY beneficial.
The HGSI tools are remarkably powerful.
Having an interactive webinar is a mixed bag, in my opinion. Being able to communicate on the fly is useful and allows relevant questions to be answered. However, some comments from attendees can be distracting and disruptive. I recognize that you are dealing with people who probably have a wide variety of technical capabilities. If you could find a way to have someone else address some of those issues (like the sound not being audible) for participants without bogging the whole group down, that would improve the flow of the webinar.
Having the videos for later review is excellent. Your teaching style is clear and easy to follow.
Thanks again.
Jon
---
Ron Brown provided an extremely thorough demonstration of the unique features of HGSI during his recent HGSI Investor Webinar series.  I have used many technical and fundamental stock market analysis tools over the years, but have never had such a useful in-depth presentation.  Seeing coordinated use of the rich toolboxes of HGSI opened my eyes to many capabilities and possibilities.  Ron also presented practical strategies for current market analysis, prospecting, volume price analysis, risk management, and trading.  Ron's style is relaxed, professional, and engaging as he generously shares his knowledge.  It is clear that Ron successfully adapts to changing market conditions and that HGSI evolves to meet the new strategies.
Mark