Stock Market Early Morning Insights – April 11, 2016
Stock Market Early Morning Insights – April 11, 2016
Oil and energy relative stocks kept the major market indexes from turning negative after a strong open, which faded for the rest of the trading day.   The SP 600 small cap index was the only major market index that closed with a white candle, and all closed in the lower part of their daily ranges. The oil ETF, the USO, closed at 55.56% of its daily range even though it was up 5.5% for the day. It gapped up, and then stalled. The indexes remain range bound, but selling pressure has been light on declining volume. If you use your imagination, you can see the indexes, especially the NASDAQ Composite forming a cup and handle.
Exploration & Production, and Precious Metals and Mining stocks dominated the GIR Top 50. Gold Miners and Commodity ETFs were strong, although gold was slightly negative for the day.
Earnings season kicks off today with Alcoa reporting after the bell. Earnings season will not begin in earnest until the banks start reporting.  These are the four large banks that report later this week, and this is a breakdown of all industry groups reporting this week. Banks are the dominant group with a  total of 13 banks reporting.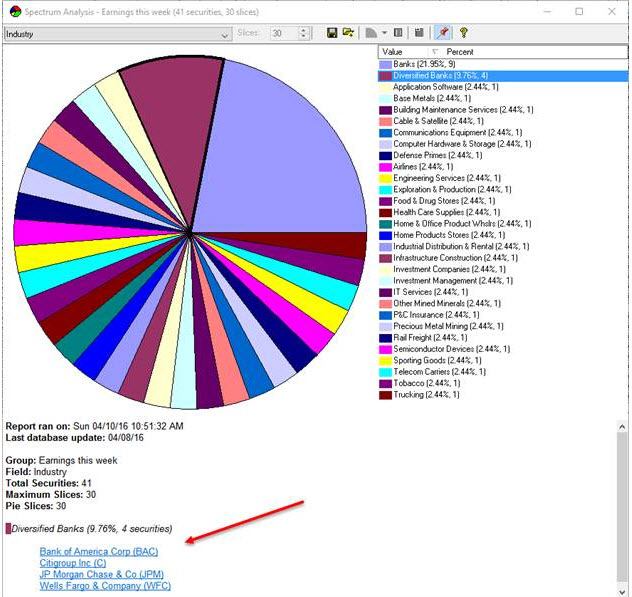 If the major banks report stronger than expected earnings, this will more than likely boost the broader market. The long and medium term trends remain up for NASDAQ, but the short term trend has turned down.
Stock index futures prices are up again this morning, but they have opened higher each day for the past three sessions and failed to follow though.
STOCK MARKET EARLY MORNING INSIGHTS
Stock Market Early Morning Insights is a product of Ron Brown Investing. The complete report and all the charts are produced daily before the market opens and distributed by email to subscribers. Reports published on the HGSI Blog are delayed and do not contain all the charts.  For more information about subscribing use this link. MORE INFO