Stock Market Early Morning Insights – April 19, 2016
Stock Market Early Morning Insights – April 19, 2016
Yesterday's rally had good breadth for the NASDAQ composite, but the breadth really stands out in the Broad Market Indices folder in the large cap stocks. In the top 100 stock holdings in the indexes, 94 advanced, five declined, and one was unchanged. The S&P 93 advancers compared to 9 decliners. Obviously, there are now 102 stocks in the S&P 100 which are closely followed and traded by the institutions.
Not only were the large caps strong, but the small-cap stocks also had a good day. The Biotech and Specialty Pharma stocks, plus the energy stocks had a good day. After the failed production limits for oil over the weekend, I thought oil related stocks may have a poor day, but the Energy Sector finished with a 5.14 to 1 ratio of advancing stocks over declining stocks as crude light rallied yesterday.
Crude light futures are up 1% this morning, which is a follow-through from the reversal we saw yesterday.
As I pointed out in some of the charts below, the NASDAQ composite, the S&P 400 and the S&P 600 are all now within 6% of their 52-week highs. The Dow Jones industrial average is within 1.9% of its 52-week high, and is going to add to those gains at the open.
Once again, the Top 50 GIR gives us good insight into where the strength is in this market. Specialty Pharma and Biotech stocks are two of the dominant groups, and the Cement and Aggregates group continues to go higher. USCR is one of those stocks that just keeps going and is out to an all-time high. This is one of those stocks that meets the criteria for the Perfect Speculator view that I put into software. After the bear market in 2008, it has often been said that buy-and-hold does not work. This is one of the many charts that proves otherwise.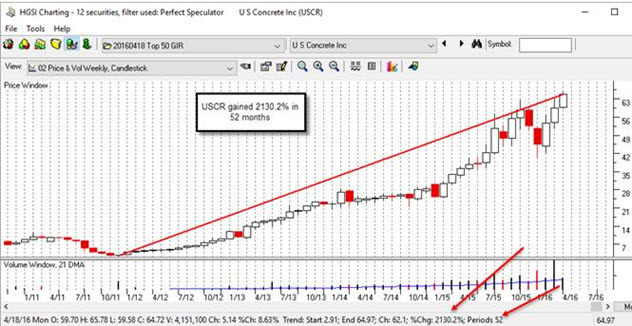 These are the stocks in the Top 50 Group Inclusion Report that pass the Perfect Speculator screen today. Most of the stocks have appeared many times before and several are at all-time closing highs.

This market has a great deal of momentum, much to the chagrin of the bears. The negative reactions to earnings from NFLX and IBM have not affected the positive momentum at all, as traders, once again, are following the lead of commodities.
STOCK MARKET EARLY MORNING INSIGHTS
Stock Market Early Morning Insights is a product of Ron Brown Investing. The complete report and all the charts are produced daily before the market opens and distributed by email to subscribers. Reports published on the HGSI Blog are delayed and do not contain all the charts.  For more information about subscribing use this link. MORE INFO