Stock Market Early Morning Insights – April 21, 2016
Stock Market Early Morning Insights – April 21, 2016
Yesterday was primarily about energy and commodities. Oil is trading at four month highs, which of course gave a boost to stocks in the energy sector. Three of the top four groups in the Stocks and Groups Moving up SmartGroup were energy related stocks.
The Steel and Steel Raw Material Suppliers groups continue to move higher. I don't think anyone expected these groups to be two of the leading groups at this point in the rally, but HGSI spotted the rotation into these groups. I did a video back on March 5 which was posted on YouTube where I pointed out the rotation into steel stocks. Even with poor earnings in the past, these groups continue to move higher, and both have group ranks of 96 and above.
Today is a big earnings day with Google reporting after the bell. The expected move based upon option premium pricing is around $39, but that is $39 either up or down. Traders who buy options outright, either puts or calls, need a huge move in either direction to profit. Volatility is around 80% for the at the money options, and that volatility will be sucked out of those options as soon as earnings are announced. That is why buying directional options around earnings is most often a losing proposition. The same options one week out have a volatility around 41%, so anyone buying puts or calls today will probably lose money unless the move is greater than $39.
This is a list of the top 25 largest market cap stocks reporting today. All are well known, and heavily followed stocks. Reaction to the earnings of these companies should help with a sense of direction of the indexes going forward.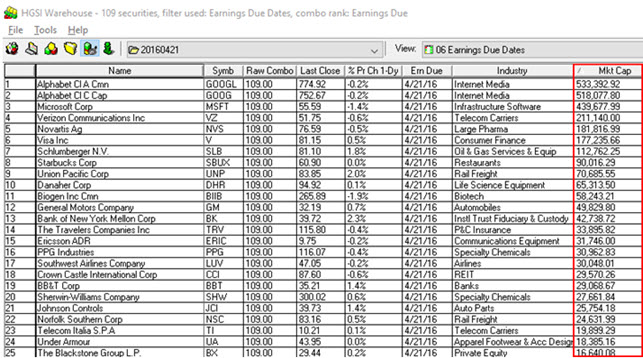 Below is a rough estimate of reactions to earnings since they began with Alcoa on April 11th. Since the opening on the 12th of April, of the companies that have reported so far, 63.82% have been gainers, and 36.18% have been losers. I arbitrarily used the 12th, and ended with the close on Tuesday, because some of these stocks just reported yesterday after the bell. This is just an estimate of reaction to earnings, and it has generally been positive.

Stock futures are flat this morning, along with oil futures. There was an ECB meeting today, but so far, I see no reaction to the meeting. The indexes remain up, but they seem to be tiring. Semiconductor stocks did bounce back yesterday after the Intel announcement of layoffs, and the Canary stocks had a good day, but of course, most have yet to report earnings.
STOCK MARKET EARLY MORNING INSIGHTS
Stock Market Early Morning Insights is a product of Ron Brown Investing. The complete report and all the charts are produced daily before the market opens and distributed by email to subscribers. Reports published on the HGSI Blog are delayed and do not contain all the charts.  For more information about subscribing use this link. MORE INFO