Stock Market Early Morning Insights – April 27, 2016
Stock Market Early Morning Insights – April 27, 2016
Yesterday was a strong day for the broader markets. It may not seem that way because the NASDAQ composite was down slightly, but the internals were positive running 1.66 advancers for every decliner. The NYSE advancers decliners by a 3.392 to 1 margin. Also, the S&P 600 small-cap stocks broke above short-term resistance, and the S&P 400 mid-cap index came very close to doing the same.
With the Apple earnings miss after the bell, stock futures tanked because of the heavy influence of Apple on all of the major market indexes. At 6 AM central time the NASDAQ E-mini futures are down 1.07%, but surprisingly, the S&P E-mini futures are only down .23, and the Dow Jones E-mini's are only down .18%.
The Bears are hoping desperately that apples miss on earnings will be the beginning of a market collapse, but until I see most of the major market indexes breaking down I remain in the moderately bullish camp. If the Apple earnings are brushed aside by the broader markets with a focus more on the Fed decision on interest rates, this market will retain its upward bias.
Yesterday the Exploration and Production and Semiconductor Devices were two of the leading groups. The Semiconductors Devices group has not done much for the past five weeks, but yesterday 83% of the group was up. With oil up along with gasoline, the Exploration and Production stocks were all positive. Generally, it was a very strong day with nearly three quarters of the stocks in groups having a positive day. The glaring exception was in the Biotech and Specialty Pharma stocks with the IBB and the XBI ETF's getting hit pretty hard.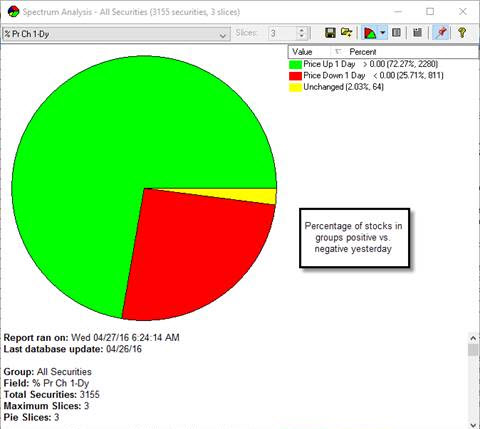 If you didn't get a chance to listen to our webinar yesterday afternoon, here is the link:
Roman Bogomazov of Wyckoff Analytics and Ron Brown from HGSI software demonstrate several features of HGSI's VPA module which can assist the Wyckoff trader.
STOCK MARKET EARLY MORNING INSIGHTS
Stock Market Early Morning Insights is a product of Ron Brown Investing. The complete report and all the charts are produced daily before the market opens and distributed by email to subscribers. Reports published on the HGSI Blog are delayed and do not contain all the charts.  For more information about subscribing use this link. MORE INFO