Stock Market Early Morning Insights – August 10, 2016
Stock Market Early Morning Insights – August 10, 2016
It was a quiet day yesterday for the major market indexes. Volume was once again light, and the NASDAQ closed down from its high generating a No Demand flag. In spite of the light volume, internals were positive at 1.3 to 1.
As I mentioned yesterday, nobody knew if the rumors of an OPEC agreement on restricting output were true, and that turned out to be the case. Oil futures did not follow through and gave back some of their gains from Monday. The closing candle was a Spinning Top which signifies uncertainty. This morning crude light futures are trading at $42.50 down .56%, but are off their lows which were at $42.08.
Yesterday during the webinar session, we could see that Medical Devices, Medical Equipment, Internet Media and Semiconductor Devices were leading intraday, and that's exactly the way the market closed. On the other side, many of the energy groups were weak after having been strong on Monday. Also, The Apparel Footwear and Accessory Design group had nine stocks in the stocks and groups moving down SmartGroup.
There is very little to say about yesterday's market action in the indexes, but there were some standout stocks in the Internet Media group. WB, SINA and YY all had extremely strong days. WB and SINA both reported, but YY will report on the 11th.
WB has consistently appeared in the top 50 GIR list. It is now extended, but should be watched for a pullback and re-accumulation period. It only has 11% institutional sponsorship, and if they get on board, it could ultimately go much higher, but in the short term risk is high. It is a beautiful example of a stock in an uptrend with multiple confirming VPA flags.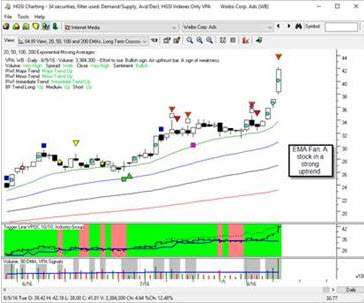 The trends remain up for the major market indexes.
STOCK MARKET EARLY MORNING INSIGHTS
Stock Market Early Morning Insights is a product of Ron Brown Investing. The complete report and all the charts are produced daily before the market opens and distributed by email to subscribers. Reports published on the HGSI Blog are delayed and do not contain all the charts.  For more information about subscribing use this link. MORE INFO