Stock Market Early Morning Insights – August 19, 2016
Stock Market Early Morning Insights – August 19, 2016
Today is the third Friday of the month, and is options expiration day. It seems that monthly options expiration has little effect on the market anymore because of the advent of weekly options. Still, at the end of the day, will probably see heavier volume reflected in the indexes because of traders and firms squaring their positions.
The NASDAQ closed near the high of its daily range coming in and 85.84%. Much of the strength occurred in the afternoon as selling from early in the day was absorbed. The NASDAQ composite has an accumulation ranking of "A", and it looks to me like it wants to break higher. It probably won't happen today, if it does, but the composite is still holding above the gap, and internals over the past several days have mostly been positive. Yesterday the advancers led the decliners by a 2.08 to 1 margin.
Oil futures have gone from extremely bearish a little over two weeks ago to bullish in the medium and short term trends. Yesterday was another strong day for oil, and for energy related stocks. The dominant stocks in the top 50 GIR are Exploration and Production, Precious Metal and Mining, and once again, Semiconductor Devices which have had a huge run, and continue to move higher. The same can be said for the Precious Metal Mining stocks. These Stocks and Groups Moving to the Upside SmartGroups confirm this with Exploration and Production as the dominant group. We have seen this group emerging for the past several days.
Newfield Exploration Company was one of the first stocks to appear in this group in the top 50 GIR back on August 3. On that day the stock generated a huge bullish candle, and an Effort to Rise VPA flag. The preceding day generated VPA flags indicating the stock was under accumulation. On the same day, the volume point of control 10/10 turned positive, and pocket pivots appeared on the prior day, and the day of the huge move. This is the chart of NFX.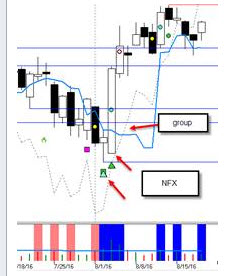 Stock futures are down about a quarter of a point this morning, the Dollar Index is positive for a change, and oil futures are down slightly. I believe the trends for the major market indexes all remain up even though the S&P 400 mid-cap and the S&P 600 small-cap indexes have been stagnant for a month. The rotation into oil stocks will continue as long as oil heads higher. Have a good weekend.
STOCK MARKET EARLY MORNING INSIGHTS
Stock Market Early Morning Insights is a product of Ron Brown Investing. The complete report and all the charts are produced daily before the market opens and distributed by email to subscribers. Reports published on the HGSI Blog are delayed and do not contain all the charts.  For more information about subscribing use this link. MORE INFO