Stock Market Early Morning Insights – August 8, 2016
Stock Market Early Morning Insights – August 8, 2016
The major market stock indexes all hit all-time highs on Friday after a better than expected jobs report was released by the government. Some claim that jobs report was manipulated by the government to make the economy appear stronger than it really is. I have no insight into this, but there been conspiracy claims as long as I can remember since I've been involved in the markets. Even if this is true, the stock indexes are at all-time highs, and the trends remain up until they don't. I don't know if I'm more put off by the conspiracy crowd, where the shorts that says the markets cannot go higher, and that we're due for a major correction.
There is no doubt that this is an overbought market, and it has been for some time, but that does not mean the indexes cannot go higher. They could back and fill, rotation can occur, and new leadership can emerge. Remember, the markets are primarily made up of institutional buyers, and unless they run out of buying power, the odds are the uptrends will remain in place, although the parabolic nature of these trends should moderate because they are well extended from their moving averages, and the NASDAQ composite is now above its Bollinger Band.
As I looked at charts over the weekend I found, as expected, that the leadership stocks are overextended. Risk becomes much higher on extended stocks, and that's why the smart money buys or adds to their positions on pullbacks. Whatever you do, do not chase extended stocks because of the risk reward is not in your favor even though stocks may continue higher. Using Alphabet as an example, you can see how far it is extended above the 20, 50, 100, and 200 day exponential moving averages. Compare this to the extension below the moving averages when the smart money started buying GOOGL at the hammer, which was confirmed by the VPOC 10/10 a few days later, and ultimately by the Force Indexes. That is 180 points below where it stands now.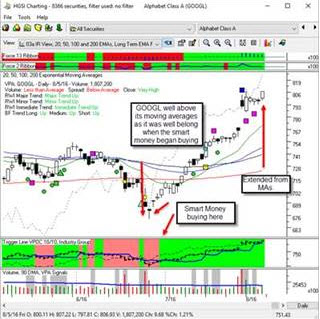 Transportation stocks were the leaders on Friday, but the technology stocks were strong across the board. Over the years, when technology stocks lead, the markets remain in a bull market, and that is what we're seeing now. The trends remain up, and stock index futures are positive once again today.
STOCK MARKET EARLY MORNING INSIGHTS
Stock Market Early Morning Insights is a product of Ron Brown Investing. The complete report and all the charts are produced daily before the market opens and distributed by email to subscribers. Reports published on the HGSI Blog are delayed and do not contain all the charts.  For more information about subscribing use this link. MORE INFO