Stock Market Early Morning Insights – February 22nd, 2016
Stock Market Early Morning Insights – February 22nd, 2016
Stock Market Early Morning Insights for Friday's session, the stock indexes felt like they wanted to go higher, and this morning, stock index futures are up over 1%. I based this observation on the way the indexes finished Friday, with the NASDAQ composite closing at 84.98% of its daily range, the Rut closing at 94.30% of its daily range, and the other major indexes closing near their daily highs after spending the day in negative territory. Additionally, volume was relatively light which indicated little selling pressure even when the indexes were trading near their lows.
The NASDAQ composite, the S&P small-cap 600 and the S&P mid-cap 400 all generated low-volume tests for supply and ended near their daily highs. I still believe the SPX needs to break above 1950 on a closing basis to complete the W bottom and to show this rally is for real. The S&P E-mini futures are very close to that level this morning at 1935, with an overnight high of 1938.75. European markets are up, which is giving a boost to ours. The DAX is currently up 1.6%.
Oil is up again, which is one of the driving forces, along with the conviction that more stimulation will be introduced by the ECB, and U.S. rates will rise slowly, it at all. Bonds and gold are trading down as we would expect, but the 30-year Treasury Bond futures have only slipped -.30%, so there is still skittishness about the validity of this rally in stocks and oil.
Although the internals were only modestly positive on Friday for most indexes and sectors, the Airline stocks continued to rally as did the Semiconductor stocks. Biotech, Specialty Pharma, and Small cap stocks led the way, indicating that traders were buying riskier assets. If oil prices continue to rise, it will be interesting to see if Airline stocks continue their rally. The group has been moving up for the past 1 1/2 weeks, and showed up on my accumulation chart and scans on February 11th.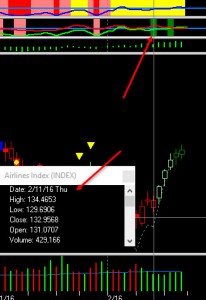 The oil sector stocks were down on Friday, but they will rally today with oil up 4.41% as I write this. The E-Mini's are now challenging the morning high, oil is moving up, gold is down, but is well of its lows, and bonds have backed off slightly.
ABOUT STOCK MARKET EARLY MORNING INSIGHTS
Stock Market Early Morning Insights is a product of Ron Brown Investing. The complete report and all the charts are produced daily before the market opens and distributed by email to subscribers. Reports published on the HGSI Blog are delayed and do not contain all the charts.  For more information about subscribing use this link. MORE INFO