Stock Market Early Morning Insights – July 18, 2016
Stock Market Early Morning Insights – July 18, 2016
It's hard for me to believe, but the Steel Producers has been one of the strongest groups coming off of the February low's. The group contains 25 stocks and has produced an equal dollar weighted 72.76% gain since February 17. US Steel is up 185.26%, but the big winter is Ryerson Holding Corporation up 477.13%! RYI has one of the most beautiful, tight charts I have seen. It is up 648.2% from its 52-week low even with having an ROE of -14.39%. For the most part, fundamentals have meant little since the February lows.
The Steel group has only one HGS Box Stock over $5, WOR, Worthington Industries. It is up 52.17% since February 17. RYI was a HGS Box Stock at the beginning of the year, and was appearing in the consistent earnings growth smart group, but it had one bad quarter, but that did not stop the momentum
HGSI Investor has been showing this rotation into Steel stocks since it began. It was just hard to believe that money was flowing into the beaten-down groups like steels, precious metals, oil etc., but that's what HGSI was telling us. Many of us have been so indoctrinated into believing that earnings are the only things that matter, but that simply is not true as we have seen during this market run. It may hold true for the most part in the future, but this has not been the case since February.
RYI began appearing in the Stocks and Groups Moving to the Upside back on March 30 when it was a $5 stock, and first appeared in the Leaders, raw RS and raw Grp Rk combo on April 8 when it was a $5.63 stock. Friday's close was $18.93. There is no excuse for my missing this one, but I did due to lack of attention on my part. The important thing is that HGSI SmartGroups did not miss the stock as it began its run higher. You won't see a prettier chart than this.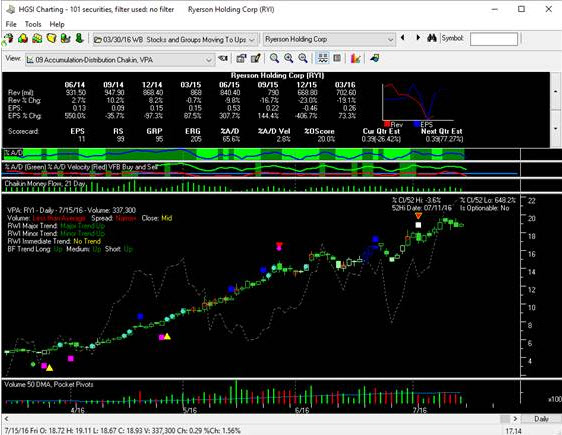 Stock index futures are up again this morning, and I expect the trends to continue until we see some signs of distribution. I just don't see distribution yet.
STOCK MARKET EARLY MORNING INSIGHTS
Stock Market Early Morning Insights is a product of Ron Brown Investing. The complete report and all the charts are produced daily before the market opens and distributed by email to subscribers. Reports published on the HGSI Blog are delayed and do not contain all the charts.  For more information about subscribing use this link. MORE INFO