Stock Market Early Morning Insights – July 25, 2016
Stock Market Early Morning Insights – July 25, 2016
The NASDAQ composite achieved a new short-term closing high on Friday. Volume was light, but it reflects summer trading. I think the closing range of the candle tells us more about the strength in the index than the volume does.
The composite open slightly higher than Thursday's close, traded down, but by the end of the day it worked its way all the way back up to 91.47% of its daily range. This is a good indication that any selling earlier in the day was met with buying. I refer to this as absorption because any selling is absorbed by traders and institutions who feel that any pullback is a buying opportunity.
If you look at the S&P 400 mid-cap and the S&P 600 small-cap indexes, you will see that they too closed in the upper part of their daily ranges. Also, the flags continue to build as any attempt to sell is met with buying. These indexes appear poised to go higher.
The Top 50 GIR shows that Restaurants and Cement and Aggregates are two of the groups that were well represented. Money is looking for a home, and on Friday these were two of the groups which attracted buyers. The spectrum analyzer slices pretty much confirms what we are seeing in the Top 50 GIR. If you have time during the trading day, all of this information is available in HGSI on a 15-minute delayed basis.
Transportation and Utility stocks were strong on Friday with several trucking firms moving up nicely.
On the negative side, Exploration and Production and other oil related stocks were weak. Last week I mentioned that crude light futures were being defended at the $45 level, and that level has clearly been broken as oil continues to trend down. As I write this, crude light futures are trading at $43.53, and the intermediate-term trend continues down with the establishment of a new lower low. It's a case of supply overcoming demand. The best opportunities in the energy sector are currently on the short side.
Under the Woodward and Brown SmartGroups you will find a group of 100 stocks that is potential short sales. The list is dominated by energy stocks as you can see in this screen capture. It is very similar to the stocks and groups moving down slices.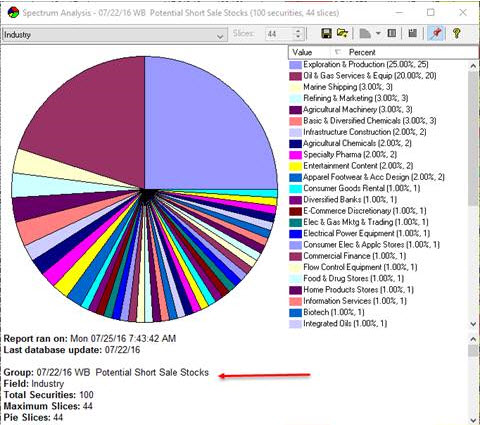 This market seems to want to continue higher and with new highs established in the S&P 500, I believe it will.
STOCK MARKET EARLY MORNING INSIGHTS
Stock Market Early Morning Insights is a product of Ron Brown Investing. The complete report and all the charts are produced daily before the market opens and distributed by email to subscribers. Reports published on the HGSI Blog are delayed and do not contain all the charts.  For more information about subscribing use this link. MORE INFO