Stock Market Early Morning Insights – July 27, 2016
Stock Market Early Morning Insights – July 27, 2016
Apple did not disappoint and is currently trading at $103.60 in the pre-market, up from yesterday's closing price of $96.67. This is a massive move for a stock with Apple's huge market capitalization.
During yesterday's session, Semiconductor Devices was once again the leading group. Analog Devices is acquiring Linear Technology for $14.8 billion dollars which gave a huge boost to a group that has been strong for several weeks. 29 of the 30 stocks in the SOX were up on the day, and with the buyout of Linear Technology, the SOX will have to contain a new member.
The Top 50 GIR list was once again dominated by Semiconductor Devices stocks. This group began to appear in the Stocks and Groups Moving to the Upside SmartGroup back on July 8th as the SOX generated an Effort to Rise VPA flag, and the group has not looked back.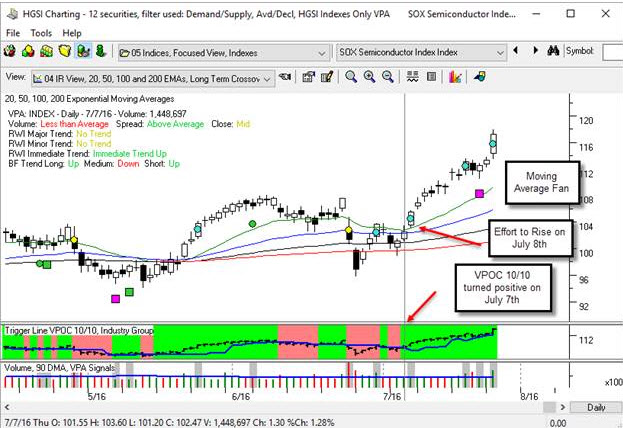 The indexes were surprisingly strong yesterday on what felt like a nothing day. The NASDAQ Composite, the SP 400 and the SP 600 all generated Pocket Pivots with the Comp breaking into new higher territory and the other indexes closing near the top of their daily trading ranges. All trends remain up, and currently, I see nothing to suggest this is going to change in the near term.
Metals and Mining stocks were very strong, and the Steel group continued its move higher with U.S. Steel and AKS leading the way on earnings news. As expected, the Energy stocks were some of the worst performers.
Today, Facebook reports along with KO and several other large cap stocks. Stock index futures are up on a boost from AAPL's earnings.
STOCK MARKET EARLY MORNING INSIGHTS
Stock Market Early Morning Insights is a product of Ron Brown Investing. The complete report and all the charts are produced daily before the market opens and distributed by email to subscribers. Reports published on the HGSI Blog are delayed and do not contain all the charts.  For more information about subscribing use this link. MORE INFO