Stock Market Early Morning Insights – July 8, 2016
Stock Market Early Morning Insights – July 8, 2016
Yesterday was another day where the S&P futures swung back and forth between positive and negative territory. The final candle on the S&P E-mini's was a Doji, which signals uncertainty going into the nonfarm payroll report this morning.
Oil futures collapsed during the day which put a damper on stocks, but there were several pockets of strength. One thing that really stands out to me this morning is that money was flowing into some of the so-called riskier stocks yesterday, especially the Semiconductors, Biotech, and Homebuilding stocks. Volume was light for the indexes, indicating caution before the jobs report.
Even though the indexes are in consolidation, or contraction before we ultimately have expansion in one direction or another, this market has the feel that stocks are biased towards the upside. We need some sort of catalyst to light the fire, and that may come in the form of the jobs report. It's impossible to speculate which direction, if any, the leading indexes will break, if they do. We could go through another six months of contraction.
Even though the indexes and the broader market are very important, it's imperative that you look below the surface to see where the action is. Many traders pay no attention to what the major market indexes are doing, but rather work at the individual stock level to see how the leaders and laggards are performing. Some of the leaders seem to be doing very well, and you will find many of these leaders in the top 50 GIR report. The stocks from the GIR report are either at multi-year, or all-time highs.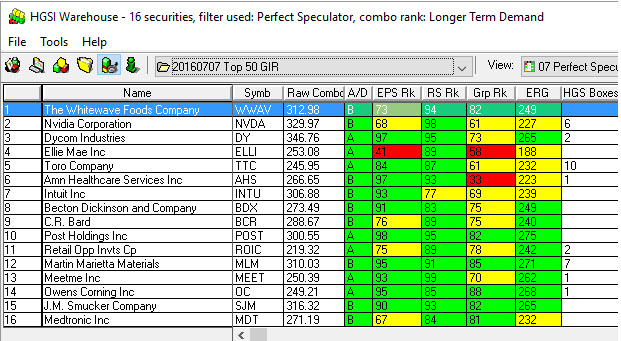 You can plan on another volatile morning as the jobs report is released. It's the same story each time, and today will probably be no different. There will be an immediate reaction to shakeout traders, and then you will probably see a reversal in the opposite direction. Many futures traders stay away from the employment data reporting day because of the volatility.
The E-mini futures are up .26% as I write this, the NASDAQ 100 futures are up .16% and the Tao futures are up .26% with about 30 minutes to go before the release of the report. Crude light is bouncing slightly, and bonds are flat. We saw some pullback in precious metals yesterday, and gold futures are down slightly today.
Have a good weekend.
STOCK MARKET EARLY MORNING INSIGHTS
Stock Market Early Morning Insights is a product of Ron Brown Investing. The complete report and all the charts are produced daily before the market opens and distributed by email to subscribers. Reports published on the HGSI Blog are delayed and do not contain all the charts.  For more information about subscribing use this link. MORE INFO