Stock Market Early Morning Insights – June 15, 2016
Stock Market Early Morning Insights – June 15, 2016
There is still support under this market.
The major market indexes all closed above the mid-point of their daily ranges to form Spinning Top candles, a sign of indecisions that shows the battle between the bulls and the bears.  Volume was heavier than on Monday, but was still below average.
The indexes remain in limbo between support and resistance as traders await commentary from the Fed and Janet Yellen, and Brexit is still looming. The bears had their hopes up with the spike in the VIX on Monday and Tuesday, but the VIX reversed intraday yesterday as the indexes held to close slightly down for the day. The VIX is lower this morning as stock index futures are higher. It rarely pays to chase volatility, and is why premium sellers generally have the advantage when volatility spikes.
The German DAX is up 1.44% as I write this, and the E-mini SP futures are up .25%. Oil futures are down 1.15% as supply concerns gain momentum. This is a bit surprising because the Dollar Index is also down slightly. Oil has fallen the previous few days because of the strength in the Dollar Index.
After yesterday's market action, I am less concerned about a major selloff, but only because I saw that some of the so call risk groups were hold their own, and we even progressing. Technology stocks showed signs of life, and several semiconductor stocks look like they are setting up to go higher if the broader markets hold. The Semis did not appear yet in the Top 50 GIR, but they showed up in the Stocks and Groups Moving to the Upside SmartGroup.
These Semiconductor Devices all look like they are setting up to go higher.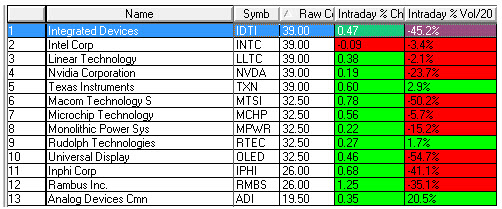 Some of the Application Software stocks, especially CALD, AZPN, CSOD and PAYC look like they want to go higher. All are trading above their 10/10 volume point of control and appear to be under accumulation. I am going to place these stocks and the Semiconductor stocks in a watch list to look for potential trades. Another stock to add to your watch list is WB which made the Top 50 GIR today after bouncing off the 10/10 VPOC line.
Risk is high, but the indexes are not close to testing support. Triple Witching options expiration is Friday which may add to the volatility.
STOCK MARKET EARLY MORNING INSIGHTS
Stock Market Early Morning Insights is a product of Ron Brown Investing. The complete report and all the charts are produced daily before the market opens and distributed by email to subscribers. Reports published on the HGSI Blog are delayed and do not contain all the charts.  For more information about subscribing use this link. MORE INFO