Stock Market Early Morning Insights – June 20, 2016
Stock Market Early Morning Insights – June 20, 2016
Stock indexes around the world are exuberantly higher on a massive short covering and buying.
Traders who went into the weekend short stock indexes after Friday's options expiration distribution day should have covered when the E-mini's opened yesterday day evening. If they were watching the U.S. Open golf tournament, and then the NBA finals, they found themselves in losing positons by the time they got to their computers. This is all because it looks like the Brexit is gaining momentum to stay with the EU, and is just another great example of how news is used to manipulate markets.
At Friday's close, gold futures were the place to be, but this morning gold is being dumped as the Dollar index falls, and the Euro gains. The VIX closed around 19.40 on Friday, but this morning is trading at 17.15, evaporating put premiums that had been purchased for downside protection. Crude light futures are up another 1.77% following a 4% gain on Friday. Interestingly, volume was lighter on the 4% rally which suggest more short covering than enthusiastic buying.
Friday's volume on the stocks indexes should be ignored because it was triple witching options expiration. The NASDAQ Composite, the SP 400 mid-cap, and the SP 600 small-cap indexes all show huge volume spikes on Friday as options contracts expired, and the underlying positions were settled. Internals were negative at around 1.20 to 1 for the NASDAQ composite, but were 1.61 to 1 positive on the NYSE as oil stocks moved up, so we don't gain much insight to the overall buying and selling pressure.
It does not matter what happened in most sectors on Friday, because with stock futures up over 1.3%, traders may take on more risk if they believe stocks will follow through after the short squeeze. Money flowed into energy related stocks, and should continue today if oil futures hold, but precious metals stocks, gold, silver and bonds are being aggressively dumped in the pre-cash market.
Even though it appears that new highs are inevitable for the major stock indexes, they remain in a trading range until proven otherwise. So how do you handle today? Do not chase the open, whatever you do. Many well-known stocks are going to gap open because ask prices are higher due to the strong futures, and the market makers will naturally raise their asking prices for securities. FB closed at $112.62 in the aftermarket on Friday, but the current ask is $114.15; AAPL closed near $95 after hours, but the current ask is $96.20 etc. This will not be a "normal" open, so let the opening rotation play out before making any trading decisions.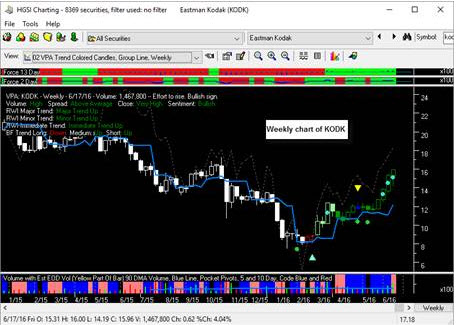 I never thought I would say this, but Eastman Kodak is making a strong comeback and the stock is up over 100% since January. It is extended now, but it is in my watch list.
STOCK MARKET EARLY MORNING INSIGHTS
Stock Market Early Morning Insights is a product of Ron Brown Investing. The complete report and all the charts are produced daily before the market opens and distributed by email to subscribers. Reports published on the HGSI Blog are delayed and do not contain all the charts.  For more information about subscribing use this link. MORE INFO