Stock Market Early Morning Insights – March 10, 2016
Stock Market Early Morning Insights – March 10, 2016
---
TECH TALK… This is the 3nd webinar on the HGSI Volume Price Analysis Suite of Indicators. "HGSI VPA Float Turnover & Float Turnover Channel" Wed, Mar 16, 2016 4:30 PM – 5:45 PM EDT  REGISTER HERE
---
Whether investors like it or not, the ECB is doing its best to force us back into stocks. This morning when the European Central Bank cut the euros on interest rate to zero, stock index futures shot up immediately on extremely heavy volume. They have backed off slightly since the high, but in a matter of 10 minutes the S&P E-mini futures shot up from the 1998 level to 2010. They sense have backed off to the 2005 level. If the stock futures hold these levels, the cash market is going to open around 1% higher.
The dollar index shot up 1% as the Euro collapsed, and gold initially treated down sharply. It is currently down .91% at 1246, but it traded as low as 1237.50 on the news. US 30-year treasury bonds jumped immediately, but have tempered their gains.
Bad news for the world economies translates into good news for stock bulls. With no place to park money for any kind of return, money is forced into stocks, or this is a scenario that usually plays out. We have seen this since 2009, and any time stocks have corrected over the ensuing years, the central bankers step in to try to avoid deflation and to prop up stock markets around the world. The German DAX is up 2.30% as I write this, but the FTSE 100 has not responded as favorably; it is only up .60%.
If stocks do respond favorably to the news, and they will have to if the stock futures maintain their gains, the SPX should blow past resistance in the 2010 area and much of the correction will be erased. The SPX will have regained 61.8% of its losses based upon Fibonacci numbers. Below is a weekly chart of the SPX with the Fibonacci overlay.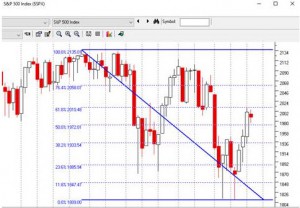 Many of the indexes yesterday, including the NASDAQ composite, generated a low-volume test for supply above the resistance area. Even though yesterday was very choppy, there was not a tremendous amount of selling going on as shown by the light volume.
As I stated yesterday, the stock market generally followed the price movement of oil which is what happened, but with the ECB's decision today, this is all about stimulation, and stocks will not necessarily trade on oil's lead. In fact, oil is flat for the day.
With the introduction of more easing and stimulation, yesterday's news is old news. Semiconductors had a good day yesterday, and that may be a good place to look for bullish candidates. Earnings season is winding down, but I show 93 stocks reporting today, including Dollar General which beat earnings, and is trading up sharply.
ABOUT STOCK MARKET EARLY MORNING INSIGHTS
Stock Market Early Morning Insights is a product of Ron Brown Investing. The complete report and all the charts are produced daily before the market opens and distributed by email to subscribers. Reports published on the HGSI Blog are delayed and do not contain all the charts.  For more information about subscribing use this link. MORE INFO