Stock Market Early Morning Insights – March 14, 2016
Stock Market Early Morning Insights – March 14, 2016
---
TECH TALK… This is the 3nd webinar on the HGSI Volume Price Analysis Suite of Indicators. "HGSI VPA Float Turnover & Float Turnover Channel" Wed, Mar 16, 2016 4:30 PM – 5:45 PM EDT  REGISTER HERE
---
The lack of volume in the major market indexes stood out in Friday's action. With the Russell 2000 and the S&P small-cap 600 both up over 2%, and the NASDAQ composite up 1.9%, I expected heavier volume if the so-called smart money is going to push the indexes higher in the short term. Are they buying in, or selling into this rally as a public is getting on board?
Not only did the major market indexes have strong percentage gains, they all closed near the top of their ranges with the NASDAQ 100 closing at 100% of its intraday range. The equal dollar weighted HGSI index shows the NASDAQ 100 volume 23.8% below its 50 day moving average. That is a massive price/volume divergence for the large-cap tech index. Maybe this means nothing, but the lack of volume is something to be aware of.
Internals were strong with the NASDAQ composite generating another Eureka. Strength was in the large-cap tech stocks along with financials and transportation stocks. The airline stocks, which have been at the forefront of this rally, continue to show strength. Also, the semiconductor devices were overwhelmingly positive with 64 advancing to 0 declining. Home builders and Specialty Apparel Stores were also very strong. The Specialty Apparels group is up around 15% since mid-February, and continues to go higher. Urban Outfitters, one of the leaders in the group, is up 71.9% from its 52-week low. The group rank is 90, and the relative strength rank is 91.
Stock index futures are moderately lower this morning with bonds and gold about break-even. Crude light is down 2.44% as I write this. If you take a close look at the weekly chart of oil, you'll see that after four strong weeks, it seems to be stalling. A week ago Friday, the oil futures broke out to a new high on strong volume, but have stalled after several attempts to go higher.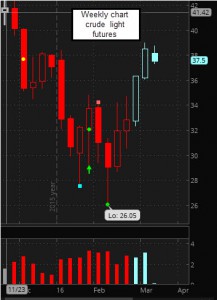 Last week's rally was not so much about following oils lead, but instead was about easing from the ECB, and the prospect of slowly rising interest rates in the US. It certainly wasn't about earnings season which has pretty much wound down.
ABOUT STOCK MARKET EARLY MORNING INSIGHTS
Stock Market Early Morning Insights is a product of Ron Brown Investing. The complete report and all the charts are produced daily before the market opens and distributed by email to subscribers. Reports published on the HGSI Blog are delayed and do not contain all the charts.  For more information about subscribing use this link. MORE INFO