Stock Market Early Morning Insights – March 17, 2016
Stock Market Early Morning Insights – March 17, 2016
---
TECH TALK… This is the 4th webinar on the HGSI Volume Price Analysis Suite of Indicators. "HGSI Volume At Price (VAP)" Wed, Mar 23, 2016 4:30 PM – 5:45 PM EDT  REGISTER HERE
---
As usual, traders waited for the FOMC announcement before the serious trading began in the E-mini futures. There'd been an upward bias most of the day, but the volume was subdued until the dovish announcement. The immediate reaction was sharply to the upside on massive volume in the S&P E-mini futures, and then a shakeout before going higher to close near the top of the daily range.
Because the minutes were more dovish than expected, the dollar index collapsed and gold and oil futures shot up immediately while bonds and stocks rallied. The ETF's and groups gaining the most were the Gold Miners, Oil, Commodities, and Silver and Gold. With all late afternoon exuberance, volume was surprisingly light with the NASDAQ composite only showing 1.76 billion shares traded, and advancers only led decliners by 1.41 to 1. Breath was much better on the NYSE coming in at 4 to 1.
I checked the stock index futures last evening and they were strong which indicated a follow-through day today, but that is all changed. The stock index futures are negative. Gold remains very strong, up 3.20% this morning, 30-year treasury bonds are rallying up nearly 1%, and the dollar continues to collapse, down 1.12%. Crude light futures are now trading above $40, but are well below their overnight high above $41.
As I suggested yesterday, if the market rallied I expected some of the Semiconductor Devices to move above short-term resistance. Two of these stocks, NVDA and MXL are in the GIR top 50, and both broke slightly above short-term resistance on heavier than normal volume. Both stocks have been showing signs of support in looking to go higher.
Apple, Facebook, and Tesla all continued their runs higher, and the V bottom on Tesla has only become stronger. It is clearly running into a heavy resistance area as you can see on this volume point of control chart. The yellow line is a volume point of control and shows where most of the buying and selling activity has taken place over the last 90 days. If Tesla breaks through the VPOC on heavy volume, it could run much higher. It is rare to see a chart form a tight V bottom like this.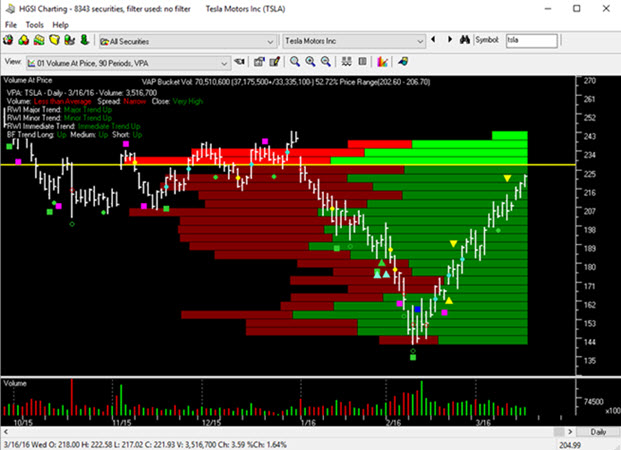 The bias for stocks remains to the upside with a dovish Fed. Obviously, they want to keep this market propped up if they can. It is time to observe the old cliché, "Don't fight the Fed", but of course, there are no guarantees.
Biotech and Specialty Pharma stocks continued their overall weakness, and surprisingly, the New Lows in the NASDAQ Composite were greater than the New Highs. This could be telling us something.
ABOUT STOCK MARKET EARLY MORNING INSIGHTS
Stock Market Early Morning Insights is a product of Ron Brown Investing. The complete report and all the charts are produced daily before the market opens and distributed by email to subscribers. Reports published on the HGSI Blog are delayed and do not contain all the charts.  For more information about subscribing use this link. MORE INFO