Stock Market Early Morning Insights – March 3, 2016
Stock Market Early Morning Insights – March 3, 2016
A late buying surge lifted the NASDAQ composite into positive territory for the day yesterday. Internals were running slightly positive most of the day, but got a boost at the end of the day to close at 1.8821 positive. The S&P 400 MidCap and the S&P 600 SmallCap indexes, along with the Russell 2000 outperformed the NASDAQ and the NASDAQ 100. The broader market did not seem to gain any momentum to the upside until oil prices rose.
The IBB, the NASDAQ Biotechnology Ishares ETF was up 1.1%, but the strongest ETF's on a percentage basis were the Gold Miners and Oil ETF's, GDX and USO. The crude light futures are in the range of establishing the higher high to go along with the higher low, but it is a struggle to break through with conviction. Crude light futures are flat this morning as I write this, but gold futures are up again and are looking to break higher. Just as many pundits are suggesting that gold has reached its peak, and it's time to short, any trader in his right mind will wait to see evidence of a trend change. I don't see it yet.
Stock index futures drifted all over the place yesterday and will probably see more of that today as traders focus on the jobs report tomorrow. Jobless claims come out before you receive this report, so there may be some activity in the futures market around 7:30 AM central time.
The top 50 GIR continues to show several Airline stocks, Semiconductor Devices and to Specialty Apparel Stores. The Airlines have had a tremendous run off of the bottom, but the group continues to show strength. The group rank is back up to 86. I noticed when I looked at the high relative strength stocks in my leaders smart group, several Utility Network stocks continue to move up, and are generating VPA by signals. This is another extremely strong group which currently has a group rank of 95.
I posted a chart of X, US steel on the bulletin board today which shows that the steel group is under accumulation, and has been for several days. If you are so inclined to try a low risk trade, you may want to take a look at the steel group. Here is the same chart. To see the full size version, click on the link below.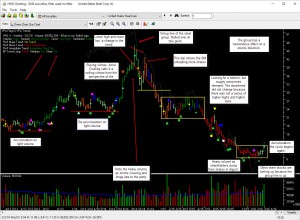 Oil has been the dominant force in stocks lately, so as oil goes stocks in general will more than likely follow.
ABOUT STOCK MARKET EARLY MORNING INSIGHTS
Stock Market Early Morning Insights is a product of Ron Brown Investing. The complete report and all the charts are produced daily before the market opens and distributed by email to subscribers. Reports published on the HGSI Blog are delayed and do not contain all the charts.  For more information about subscribing use this link. MORE INFO