Stock Market Early Morning Insights – March 30, 2016
Stock Market Early Morning Insights – March 30, 2016
Janet Yellen's dovish speech was all the market needed to boost the rally which was building. I mentioned on Monday that I thought the Bulls had control of this market, and on Tuesday there was a light volume pullback which generated no supply flags on the NASDAQ composite and the S&P 400 mid-cap index.
These flags do not work all of the time, but they provide insight into the psychology of the market based upon price and volume action, and are much more reliable than listening to opinions of other traders, and members of the financial media. I have gotten to the point where I just read what happened overnight around the world. The rest of my analysis comes from what I observe from HGSI Investor and thinkorswim. It's all about demand and supply, and recently we have been seeing more demand and supply.
This morning we're going to see a continuation of yesterday's broad-based rally. Much of the rally was driven by small-cap and mid-cap stocks, and investors piled into the broken down Biotech and Pharma groups. This snapshot was from yesterday afternoon after the market closed using the Major Industries. It shows how dominant the Metals and Mining, Biotech and Pharma, and several other groups were based upon percentage price move one day. If you look at the industry groups in the body of this report you will see that the two most dominant groups based upon my Demand Combo were the Homebuilders and Semiconductor Devices. These groups have been strong recently, and that continued yesterday. For a full size view of this image, click on the full report link below.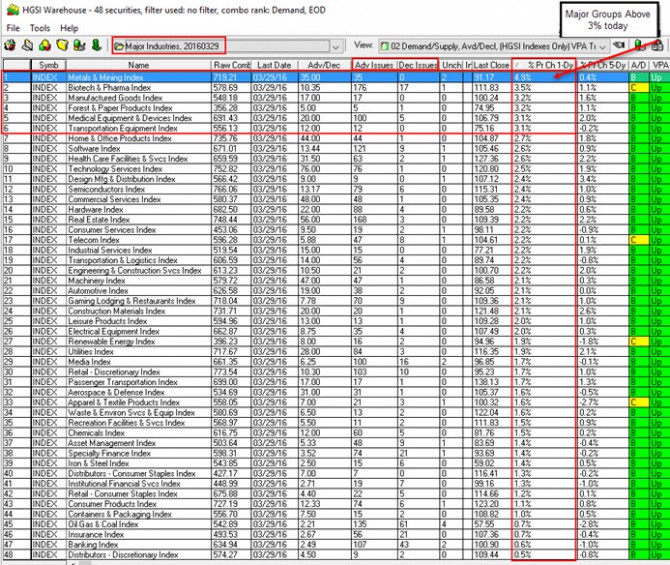 Yesterday's move was confirmed by increased volume, but volume was still slightly below its 20 DMA. Internals for the NASDAQ were around 3 to 1 positive. All sectors were positive for the day, and small cap stocks led the way.
OUT STOCK MARKET EARLY MORNING INSIGHTS
Stock Market Early Morning Insights is a product of Ron Brown Investing. The complete report and all the charts are produced daily before the market opens and distributed by email to subscribers. Reports published on the HGSI Blog are delayed and do not contain all the charts.  For more information about subscribing use this link. MORE INFO