Stock Market Early Morning Insights – March 9, 2016
Stock Market Early Morning Insights – March 9, 2016
---
TECH TALK… This is the 2nd webinar on the HGSI Volume Price Analysis Suite of Indicators. "HGSI VPA Support and Resistance Lines" Wed, Mar 9, 2016 4:30 PM – 5:45 PM EDT  REGISTER HERE
A Volume Price Analysis (VPA) Look at 4 Stocks-March 5th, 2016 by Ron Brown- VIDEO 
Relative Strength Ranking in HGSI by Ron Brown- VIDEO
---
Yesterday's dominant groups and sector were the Utilities. One of the worst performing indexes was the SOX index with 29 declining issues and zero advancers. My Focused View of the indexes was clearly dominated by Utilities and Defensive stocks. The more speculative tech stocks were near the bottom, and these indexes had at least five decliners for every advancer.
Energy stocks fell back along with oil futures, which gave up 95% of the prior day's gains. The broader stock market is tracking oil, and stock futures are up .50% as I write this because oil futures are up 1.70%, regaining half of its losses from yesterday. Gold futures, which appeared to be on their way to a new closing high yesterday, fell back on profit-taking as the candle approached resistance. Gold futures are down again this morning and the rally appears to be tiring. The GLD generated a negative Upthrust candle two days ago, and yesterday's failure to break to the upside past resistance may be a another confirmation that the rally is stalling.
The major indexes all backed off, but on lighter volume than the previous day. Still, the negative candles on the S&P 400 mid-cap and the S&P 600 small-cap indexes were ugly with above average spreads and closed near their daily lows. Much of the damage in these indexes appears to have been in Biotech and Specialty Pharma stocks, but Banks, REITs, Semiconductor Devices and Energy related stocks were also hit. Utilities and other defensive stocks were among the few stocks that were positive. Surprisingly, the Specialty Apparel stocks continued to do well.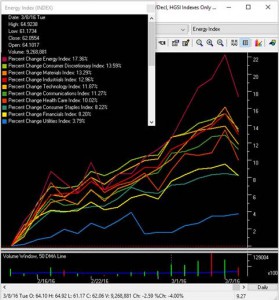 This is a comparative sector chart since the low on February 11th. The Energy sector has been the driving force behind this rally followed by the Consumer Discretionary stocks. Even though the Utility stocks seem to appear nearly every day among the strongest stocks, the sector is only up 3.79% since the bottom. With oil prices up again this morning, we will see a continuation of the dominance of the Energy sector at the open. Notice how every sector with the exception of the Utilities and the consumer Staples seems to be following the Energy sectors lead. If oil prices continue to rally today, expect the other sectors to follow.
European markets are in rally mode, and the U.S. market appears to want to follow. Yesterday was a wild intraday, so don't be too complacent. The momentum is still to the upside, but yesterday was a warning that change may be coming.  The steel stocks were down yesterday as the VPA flags warned. I will be watching to see if they continue their slide today.
ABOUT STOCK MARKET EARLY MORNING INSIGHTS
Stock Market Early Morning Insights is a product of Ron Brown Investing. The complete report and all the charts are produced daily before the market opens and distributed by email to subscribers. Reports published on the HGSI Blog are delayed and do not contain all the charts.  For more information about subscribing use this link. MORE INFO