Stock Market Early Morning Insights – May 19, 2016
Stock Market Early Morning Insights – May 19, 2016
Yesterday's intraday volatility as a result of release of the Fed minutes shows just how uncertain market direction is. The NASDAQ remains in a trading range, and is directionless.
This chart contains 18, 50, 100, and 200 day exponential moving averages, and shows how tightly wound the NASDAQ is. I still contend that until the NASDAQ breaks resistance or support with volume, it remains directionless, and will chew up traders who are trying to trade direction.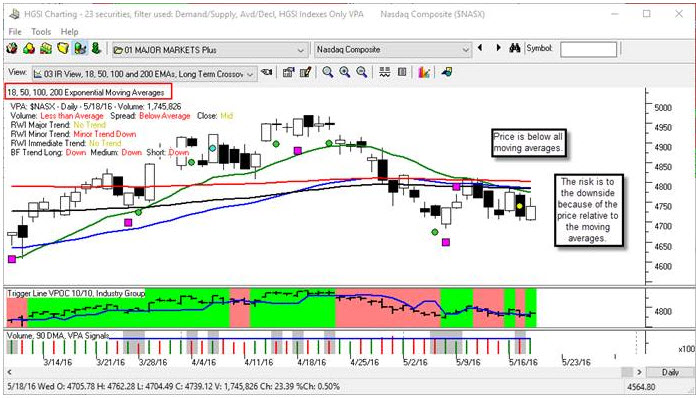 Most world markets were down overnight ostensibly on reaction to the Fed's inclination to raise interest rates this summer if conditions warrant it. US stock index futures have come off of their lows and were trading relatively flat. Walmart reported this morning, and beat earnings estimates by ten cents, which lifted futures off of their lows. Earnings were much better than expected, and are helping boost Walmart after a disastrous day yesterday.
Banks were the biggest beneficiaries yesterday of the Fed's intentions to raise interest rates. The top 50 GIR contains 13 banks this morning, something we have not seen in a very long time. Life insurers continued to do well, and Semiconductors in the SOX had 27 advancers and no decliners. The semiconductors are an example of a group that has chopped around, and continues to do so.
Biotech and Specialty Pharma stocks showed some life yesterday, but these groups have a lot of overhead resistance to overcome still, money is looking for a place to flow, and I am seeing the beginning of some accumulation in the IBB and the XBI, the Biotech ETFs. The short-term trend has turned up for both ETF's. Application Software stocks also continue to have a strong presence in the stocks and groups moving to the upside smart group.
Retail and department stores continued their weakness yesterday, but maybe they will get somewhat of a boost today from Walmart's better than expected earnings. Gold Miners and Silver took a beating yesterday. Gold futures are down another 2% this morning.
The indexes remain in a trading range, but the risk seems to be to the downside. We have seen multiple distribution days, and the intraday volatility suggests to me more distribution. I would like to see a break above resistance, or down through support on the NASDAQ before committing to a direction. It's just too easy to get chewed up in this market, so be very careful when initiating new positions.
STOCK MARKET EARLY MORNING INSIGHTS
Stock Market Early Morning Insights is a product of Ron Brown Investing. The complete report and all the charts are produced daily before the market opens and distributed by email to subscribers. Reports published on the HGSI Blog are delayed and do not contain all the charts.  For more information about subscribing use this link. MORE INFO