Stock Market Early Morning Insights – November 14, 2016
Stock Market Early Morning Insights – November 14, 2016
The rally continued Friday as the S&P 600 small-cap index hit an all-time high along with the Dow Jones Industrial Average. The other major market indexes are either at all-time highs, or are approaching them.
The index was led by Banks, Biotech, and Specialty Apparel stocks which just a few days ago were totally undesirable with many hitting 52-week lows. Suddenly, it seems that everybody wants to own the junk off the bottom stocks, especially Biotech, Specialty Pharma, Specialty Apparel and Department Store stocks. I understand the appeal of Bank stocks with the regulation seeming imminent, but I'm not enamored with the other groups many of which have poor earnings. With Amazon and other online shopping sites the brick-and-mortar stores are hurting, and there is talk that the shopping mall is dying.
The U.S. election has had consequences for emerging markets stocks. This snapshot of my ETF worldview folder shows what is happened over the past 5 days. The sort is on the % price change 5 day in ascending order. As a US ETFs have rallied sharply since the VPOC 10/10 crossovers, Latin American stocks have been especially hard-hit. The EWW, the Mexico ETF is down 12.2% well the US Russell Microcap index is up 11.9%. The emerging market indexes seem to be mostly down again this morning, will the US futures are slightly positive, but are down from their overnight highs.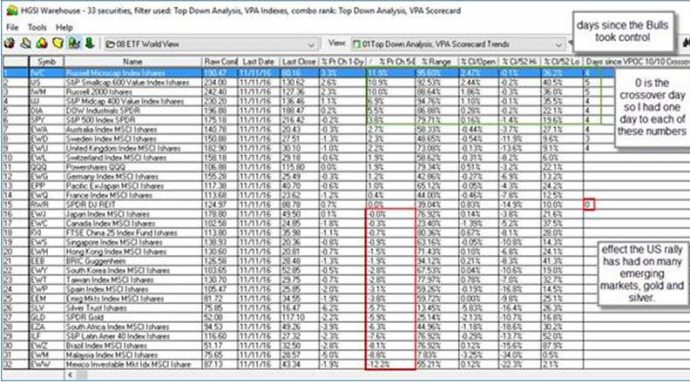 Will this market rally continue? Maybe, but not at this pace. Stocks went from oversold to overbought, and in my opinion, are extremely overbought. Much of this move has come from stocks that just a week ago seem to be in a inexorable trend to the downside. I think the rally is overdone, but I would not stand in front of it because of the unpredictability. Take a good look at the S&P 600 chart in the body of this report to get a feel for the excessive buying and short covering. Many stocks that were oversold one week ago are now overbought, and extended. Do not chase the stocks, but instead week for a pullback to look for entry points if you find a stock or ETF you would like to own.
STOCK MARKET EARLY MORNING INSIGHTS
Stock Market Early Morning Insights is a product of Ron Brown Investing. The complete report and all the charts are produced daily before the market opens and distributed by email to subscribers. Reports published on the HGSI Blog are delayed and do not contain all the charts.  For more information about subscribing use this link. MORE INFO