Stock Market Early Morning Insights – September 15, 2016
Stock Market Early Morning Insights – September 15, 2016
Here are my trading results since June 12 to September 7, 2016 using at $25,000 account.  You don't need a large account to make money: https://1drv.ms/u/s!AshhTFqIPakDgsI3tm_MfUR9YiGF9A
For those who attended my last webinar series and those who are interested in attending I will hold another series of webinars that teach the techniques that I use beginning in late October.  If you are interested contact me at ron@highgrowthstock.com.
---
The majority of the stock indexes look weak and vulnerable. The NASDAQ composite is the only major index holding somewhat firm, and we can contribute most of that to the large capitalization tech stocks. Apple led the way yesterday, but it did have support from several Semiconductor Devices, Biotech, Application Software and Internet Media stocks in the NDX.
This pie chart of the NDX stocks which were up for the day shows the distribution of positive stocks yesterday.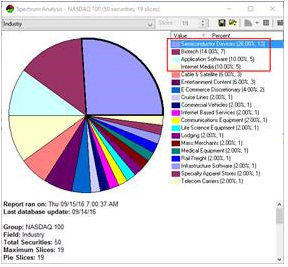 The top 50 group inclusion report shows that the dominant the Biotech and Specialty Pharma stocks were. If we just look at the indexes, we have no idea how the strength and weakness was distributed yesterday, but the combination of slices and the top 50 GIR gives us immediate insight into where the positive money was flowing.
Volume was once again above average for the NASDAQ composite, but the internals were essentially flat with decliners having a slight edge. The S&P 400 mid-cap index has broken down through short-term support, and the S&P 600 small-caps are also in a short term downtrend as the index approaches support. Both the S&P 400 and the S&P 600 look weak and vulnerable to further downside momentum. These two indexes are selling off on less than average volume, so panic is not yet set in, but unless they find support, the selling could accelerate.
The buying in the Healthcare sector was impressive yesterday, but these groups, the Biotech and Specialty Pharma groups have been showing signs of accumulation for several days. I have had a few in my watch list including SUPN and IRWD. WB in the Internet Media group looks like it may be setting up again. The Cruise Lines index is beaten down, but stocks in the group are showing signs of accumulation. They are still in a downtrend, but are worth watching.
Stock futures are positive this morning following oils lead. Yesterday the oil and energy related stocks seem to be the culprits that put pressure on many of the S&P stocks. Don't get too hung up on the indexes unless you play the futures and/or index related ETFs. The beauty of HGSI is that we can see strength and weakness inside the indexes, and that's where our focus should be.
STOCK MARKET EARLY MORNING INSIGHTS
Stock Market Early Morning Insights is a product of Ron Brown Investing. The complete report and all the charts are produced daily before the market opens and distributed by email to subscribers. Reports published on the HGSI Blog are delayed and do not contain all the charts.  For more information about subscribing use this link. MORE INFO