Stock Market Early Morning Insights – September 28, 2016
Stock Market Early Morning Insights – September 28, 2016
Yesterday was a large capitalization stock rally. 29 of the 30 Dow components were up for the day, and the NASDAQ 100 and 96 gainers compared to only 10 losers. Traders who thought Monday selloff was the beginning of the end were caught again on the wrong side of the market. This is why it is important to pay attention to your individual positions in stocks or ETFs rather than being heavily influenced by what you think the overall market is going to do.

The NASDAQ composite was led by Semiconductor Devices, Internet Media, Internet-based Services, and two Pollution Control Equipment stocks that have appeared in the top 50 group inclusion report many times. Hudson Technology is an inexpensive trade that I missed the other day when it pulled back, generated a Strength Seen Returning flag, and then an Effort to Rise flag. It is up 5.9% over the last five days. HDSN as appeared nine times in the top 50 GIR in September alone, plus last weekend in my Combined top 50 GIR of stocks that appeared at least three times during the prior week. This is a good illustration of why a watch list should be maintained daily. These are the appearances for HDSN this month.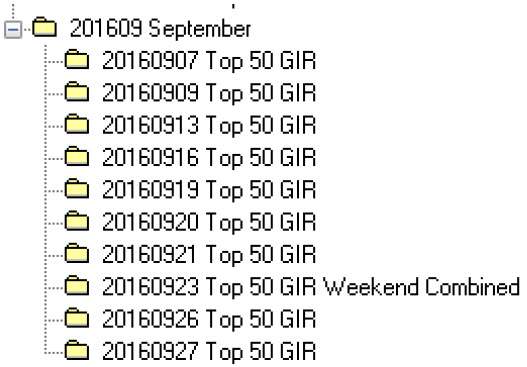 ERII, Energy Recovery in the same group has done even better. It was up 7.4% yesterday, and is up 11.6% over the last five days. This are two stocks in a Wolfpack that is on the move.

I mentioned two stocks yesterday, and both had strong days, WB and FNSR. I was already in WB with a debit spread, and was stopped into FNSR yesterday shortly after the open with a risk of only 2.88% plus any slippage. I was fairly confident both stocks would rise if the market rebounded because of their strength on Monday when the indexes were falling. In other words, their relative strength was strong in a weak market. Both stocks had pulled back on Monday, but closed near their intraday highs which indicated that selling was being absorbed by buyers. Both stocks are extended, but there are very few leaders that are not. This is why risk control is so important, and complacency is not allowed.

Stock index futures are up slightly again today. There is a lot of Fed speak which will probably move the markets around, but as I said earlier, deal with your stocks and ETFs, and don't worry so much about the indexes. This is the way Gil Morales approaches it, and it is sound advice.

I started learning technical analysis in 1983, and you cannot imagine the number of books, videos, and information I have digested and thrown away because most indicators and techniques are not
necessary, and many do not work. I wasted much time and effort in search of the holy grail of trading, which does not exist, but there is an entire industry out there that want you to think it does. Keep it simple, and control your risk.

These are a few more stocks for your watch list: ATEN, TTMI, AGEN, OCLR.
STOCK MARKET EARLY MORNING INSIGHTS
Stock Market Early Morning Insights is a product of Ron Brown Investing. The complete report and all the charts are produced daily before the market opens and distributed by email to subscribers. Reports published on the HGSI Blog are delayed and do not contain all the charts.  For more information about subscribing use this link. MORE INFO