Stock Market Early Morning Insights – September 6, 2016
Stock Market Early Morning Insights – September 6, 2016
Friday was a strong closing day for the summer season. Volume was light, as expected, but the internals continued to build momentum.
I hope you did not spend any of your holiday weekend listening to, or reading about, other's opinions of the direction of the markets. There is nothing more worthless than someone's opinion about market direction, and that includes my opinion.
This is why I try not to have an opinion, but instead I try to objectively make a daily statement about what I see based upon money flow in and out of groups and sectors in HGSI. We all should look at what the groups, sectors, stocks, ETFs are telling us, and at the moment, stocks are generally strong in some of the so call "risk on" groups. Yes, this can change in a hurry, but for now, I see strength, not weakness.
Rather than looking at indicators, most of which are worthless unless they are based upon price and volume, I look at a few moving averages for visual support/resistance, and direction, but mainly I rely upon support and resistance areas, volume point of control, and the VPA flags built into HGSI. Combine these with group and sector rotation, and you have the most powerful tool available to stay in tune with the market.
This is the reason Gil Morales no longer uses Market Smith or WONDA. If you missed the swing trading video Gil produced several months ago, here is the link again. The charts are all HGSI charts. https://youtu.be/KpcBYjs45-g Note how simple Gil's charts are, if you take time to watch the video.
Those of you follow me know that I use the 10 period 10 bucket Volume Point of Control for a short term trigger to see who is in control. As of Friday's close, this is a visual of the bulls being in control of 76% of stocks in groups above $5 trading at least 250,000 shares. This is a short-term, sensitive indicator, but for now, the bulls are dominant.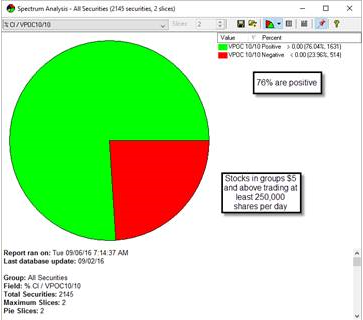 The VIX dropped dramatically on Friday, down 11.1%, as downside protection premium evaporated from puts. Biotech and Specialty Pharma stocks were relatively weak, while Precious Metals, Application Software, Internet Media, and a few other groups were strong. The Top 50 Group Inclusion Report was dominated by Application Software stocks, but there were also several Infrastructure Software, E-Commerce and Semiconductor Devices included.
The NASDAQ Composite continues to build a cause for moving sharply in one direction or another, and if it follows the SP 400 and SP 600, it will break to the upside as those two indexes did on Friday. This is not an opinion, but an observation.
STOCK MARKET EARLY MORNING INSIGHTS
Stock Market Early Morning Insights is a product of Ron Brown Investing. The complete report and all the charts are produced daily before the market opens and distributed by email to subscribers. Reports published on the HGSI Blog are delayed and do not contain all the charts.  For more information about subscribing use this link. MORE INFO