The HGSI MOBO Squeeze Indicator and Top Down Investing
Free Webinar this Sunday, March 2, 2014 from 8-10 PM ET U.S.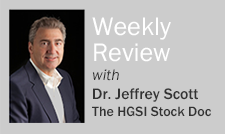 Hi, I'm Dr. Jeffrey Scott, The HGSI Stock Doc.  During this webinar I will be talking you through my thinking as I actually prepare for managing my personal portfolio for the coming week in the market.  During this part of the webinar I'll be showing you how I prospect for candidate stocks to enter or how I decide about current stocks that I exit.
I'll also be using the new HGSI Squeeze Charting Indicators to find MOBO Breakouts. The so called "Squeeze Play" is based on the relationship of two indicators, Bollinger Bands and Keltner Channels. They both consist of a center line with an upper band and a lower band. The difference is how they each measure the upper and lower distance to the middle line. The squeeze is consider to be "on" when the upper and lower Bollinger Bands go inside the Keltner Channel.   What I will be doing is showing "How To "Squeeze" Profits into Your Portfolio".
Click here to try HGSI Investor free for 30 days