Stock Market Early Morning Insights – April 1, 2016
Stock Market Early Morning Insights – April 1, 2016
Yesterday the indexes stalled for the second consecutive day. Volume was up slightly from the prior day, and the extremely narrow trading range on the NASDAQ composite with a close in the lower 20% of the daily range indicates that traders were selling into early strength. By the end of the day the internals for the NASDAQ composite common stocks were negative.
The Cruise Line stocks did follow through with all five of the major cruise lines advancing. There was also demand in the Biotech and Specialty Pharma stocks, but the group remains beaten down and shows few signs of strong accumulation based upon what I see in the IBB and the XBI ETF's. There is basing along the volume points of control in both ETF's, so keep an eye on them for potential breakouts.
Yesterday was a nonevent for most of the indexes as the E-mini futures bounced around throughout the trading day. Going into the close, the E-mini S&P futures looked as if they were going to have a strong close but that all evaporated during the last few minutes of the trading day. During the last five minutes, a huge spike and volume occurred in the S&P E-mini's with over 120,000 contracts trading during a one- minute period. I don't believe I've ever seen this happen before, and it could have been institutions shorting the market in anticipation of a down opening. The image is below. The volume spike was on the down bar after the strong reversal bar to the upside.
.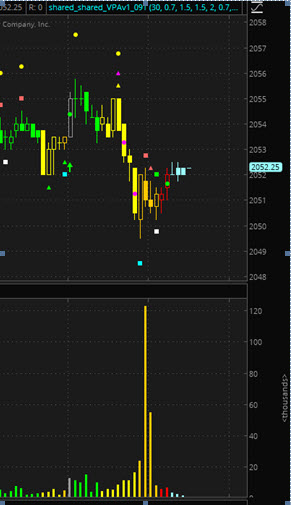 As I write this the S&P E-mini's are down nine points. More worrisome for the Bulls is that the Nikkei was down 3.55% last night, and the German DAX is currently down 2.14%. The nonfarm payroll figures were just released and the futures are gyrating wildly as usual.
Even though the trends remain up for the indexes, they have stalled and are looking tired. It's time for some sort of pullback and then we can see if supply is going to be tested, or if the indexes will roll over. Stocks have moved a great distance up in a short time, and it is tempting to jump on board to the long side, but the risk is to the long side after such a substantial move. Watch TSLA today to see how it reacts now that the Model 3 has been unveiled. This could be a case of buy the rumor and sell the news, although demand for the vehicle appears to be extremely high..
OUT STOCK MARKET EARLY MORNING INSIGHTS
Stock Market Early Morning Insights is a product of Ron Brown Investing. The complete report and all the charts are produced daily before the market opens and distributed by email to subscribers. Reports published on the HGSI Blog are delayed and do not contain all the charts.  For more information about subscribing use this link. MORE INFO