Stock Market Early Morning Insights – March 31, 2016
Stock Market Early Morning Insights – March 31, 2016
The shorts are wondering if this rally is ever going to stop, and they may soon get some relief. The trends remain up, but the volume yesterday was unconvincing as the indexes closed in the lower part of their intraday ranges. Internals were positive, but finished the day well below with a student the opening bell.
Shorts covered at the open, and the internals were nearly 5 to 1 positive for the NASDAQ composite. By the end of the day that number stood at 1.5 to 1 positive. On the NYSE the initial reading was 6.6 to 1 positive, but at the close it was 1.7 to 1 positive. This pullback did nothing to alter the primary trends, but the lack of volume and the lack of follow-through indicates that after the initial short covering at the open, traders or unwilling to push the indexes higher.
If we just look at the percentage gains for the indexes, it was a positive day, but the Spinning Top candles in the NASDAQ composite, the S&P 400, and the S&P 600 on lackluster volume suggest that this Fed -induced rally at least needs a breather. Nothing can be deduced from a single day, but a negative day today on heavier volume would suggest a failure to commit to higher prices.
The dominant group is a Semiconductor Devices group and it has been one of the strongest groups since the beginning of this rally off the bottom. SIMO, NPTN, IPHI have been the leaders in this group of stocks having at least 50% institutional sponsorship. There is an image of the top 25 percentage gainers in the Semiconductor Devices. The group also dominates the top 50 group inclusion report. The SOX was up 1% yesterday.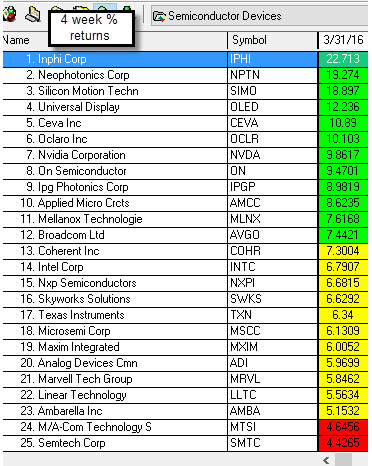 The Cruise Lines index jumped 4.2% yesterday with multiple stocks gapping open and closing near their intraday highs. For stocks in the group generated an Effort to Rise flag, and three of the four generated Pocket Pivots. I don't know what's going on with the group, but these stocks are worth watching: CCL, RCL, NCLH, and CUK. All have cleared their short-term volume points of control, but all have overhead resistance to the left on their charts.
OUT STOCK MARKET EARLY MORNING INSIGHTS
Stock Market Early Morning Insights is a product of Ron Brown Investing. The complete report and all the charts are produced daily before the market opens and distributed by email to subscribers. Reports published on the HGSI Blog are delayed and do not contain all the charts.  For more information about subscribing use this link. MORE INFO