Stock Market Early Morning Insights – April 14, 2016
Stock Market Early Morning Insights – April 14, 2016
The strength yesterday was primarily in small cap stocks, transportation, semiconductor devices, and biotech stocks. This graphic of small cap stocks, which have at least 50% institutional sponsorship, shows where the dominance was in the major industries.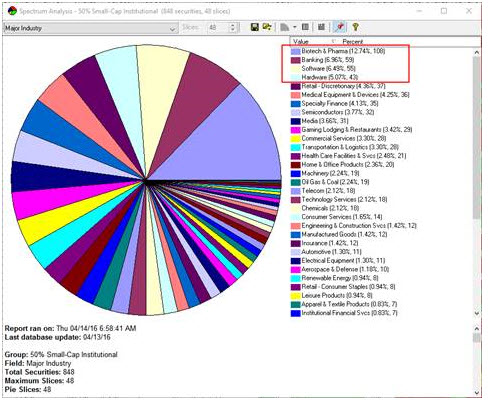 The SP 600 chart below was the only index with above average volume in all three periods, the 90, 50 and 20 day averages. The index  broke above resistance with an above average spread, plus it closed near the top of its intraday range to form an extremely bullish candle. With the small caps showing this amount of strength, this indicates that riskier trades are becoming more prevalent. All stock trades are risky, but with more money flowing into small cap stocks, traders feel more confident that this rally will continue. Of course, there are no guarantees, but the trends in the major indexes are up for now.
Home building and steel stocks also did well. HGSI  picked up the initial move in steel stocks several weeks ago, and  they continue to move higher. Take a look at SID to see a parabolic move in a steel stock. It is extremely overbought, but look at a VPA chart of the stock to see the flag alerts, plus look how it consolidated to build a cause before it erupted higher on multiple pocket pivots.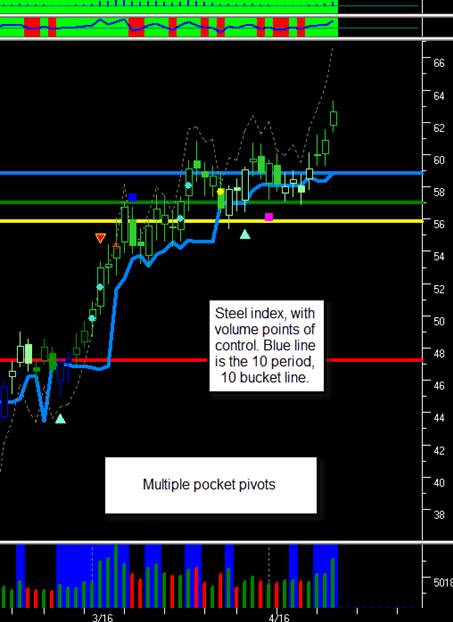 STOCK MARKET EARLY MORNING INSIGHTS
Stock Market Early Morning Insights is a product of Ron Brown Investing. The complete report and all the charts are produced daily before the market opens and distributed by email to subscribers. Reports published on the HGSI Blog are delayed and do not contain all the charts.  For more information about subscribing use this link. MORE INFO