Stock Market Early Morning Insights – April 15, 2016
Stock Market Early Morning Insights – April 15, 2016
Yesterday seemed like a pause to refresh day while waiting for more impetus to go higher. Volume was light, and the daily ranges on the indexes were small, indicating that there was little in the way of buying or selling pressure. Consequently, no supply VPA flags were generated on both the NASDAQ and the S&P 400 mid-cap index. The small-cap index, the S&P 600 broke above short-term resistance on Wednesday, and held on to most of its gains.
The S&P 600 is only down 6.9% from its 52-week high, and this is an index that back in February was well into bear market territory. The Bears who persistently hung on to their opinion that this rally is only a bear market rally may ultimately be correct, but they are only 6.9% away, and a lot less capital from being proven wrong.
Several banks have released earnings, and the banks are one of the more dominant groups in the stocks in groups moving up SmartGroups. They are also represented in the top 50 GIR. The Biotech index which went through a mild pullback, seems to have regained its momentum, and is trying to establish a new higher high. The bulls seem to be in control of the XBI and the IBB ETF because they are both holding steady.
Even though they are not represented in the GIR top 50, steel stocks as a group continue to move higher. The stocks in the group have terrible earnings, and earnings projections, but they have been some of the best performing stocks coming out of the correction. The CANSLIM purists would never look at a stock like U.S. Steel, but its performance has been outstanding along with several other stocks in the group. X, is up 206.8% from its 52-week low established on January 28th. It has an RS Rank of 99 and a Group Rank of 97! Stocks move on anticipation of earnings growth, not necessarily on past earnings.
This is how the steel group has performed this year in spite of generally poor earnings.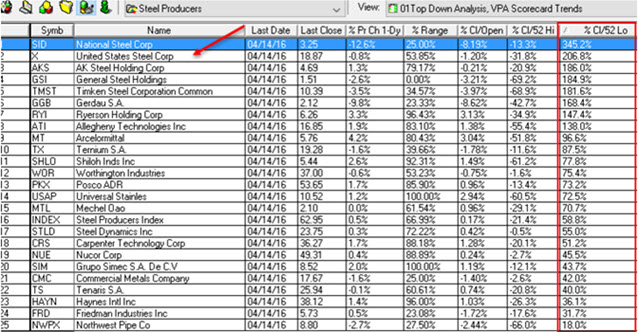 STOCK MARKET EARLY MORNING INSIGHTS
Stock Market Early Morning Insights is a product of Ron Brown Investing. The complete report and all the charts are produced daily before the market opens and distributed by email to subscribers. Reports published on the HGSI Blog are delayed and do not contain all the charts.  For more information about subscribing use this link. MORE INFO