Stock Market Early Morning Insights – August 17, 2016
Stock Market Early Morning Insights – August 17, 2016
Yesterday was the first day in several weeks that we saw some serious deterioration in the major market indexes.
Volume was still below average the NASDAQ composite but it is the highest it has been in several days, and in combination with the negative candle but closed near below of the day, a negative volume pocket pivot was generated. Additionally, the two-day force index turned negative, but the 10-day volume point of control is still positive. The S&P 400 mid-cap and the S&P 600 small-cap indexes were weaker, but still remain in their tight trading ranges.
Internals were weak across the board, and not a single one of the broad market indices had more advancing issues and declining issues. Even though oil was up again, the Energy index had 152 declining issues compared to 118 advancing issues, and this was the strongest sector. Utilities continued as the weakest sector with a more than 10 to 1 ratio of decliners over advancers. It was just a bad day for most groups and sectors, and the weakness accelerated into the close.
The NASDAQ composite was 2.32 to 1 negative, which is not exceptionally negative. The index remains well above support, and I won't be real concerned that the uptrends have changed unless the NASDAQ composite fills the gap created on August 5. Until then, the trend remains up for the composite.
Every time there is a negative day, the bears get excited and begin trying to pick the top. The problem is that markets do not generally change overnight, especially when a top is being formed. A bottom is much different because we generally see a selling climax as fear dominates and traders and investors just throw in the towel to avoid any more pain. Tops and distribution are generally a much slower process unless there is a major cataclysmic event.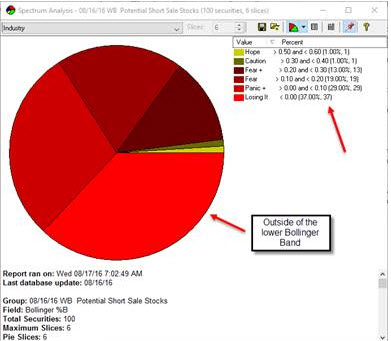 Semiconductor Devices, Application Software, Precious Metals and Mining, and Communication Equipment stocks were among those which held up yesterday. On the other hand, the Potential Short Sale SmartGroup was dominated by Utility stocks as a continued to show weakness. Many of these stocks are oversold, but if the money continues to flow out of utilities, they may have further to go. The image above shows how many stocks in the SmartGroup are below their lower Bollinger band. Even though the broader markets have been strong, stocks in this group have been hit hard.
For now, the trends of the major market indexes remain positive, but yesterday was a warning that the internals may be shifting. Make sure your stops are in place in your long positions. If you want a reminder of how important stops are, take a look at MEET which started collapsing based upon a story and Seeking Alpha.
STOCK MARKET EARLY MORNING INSIGHTS
Stock Market Early Morning Insights is a product of Ron Brown Investing. The complete report and all the charts are produced daily before the market opens and distributed by email to subscribers. Reports published on the HGSI Blog are delayed and do not contain all the charts.  For more information about subscribing use this link. MORE INFO