Stock Market Early Morning Insights – August 22, 2016
Stock Market Early Morning Insights – August 22, 2016
Earnings season is winding down, and Friday's lack of volume proved to me that monthly options expiration has become a nonevent. With the advent of weekly options, and the opportunity to initiate short term periods at any time, monthly options expiration is just another Friday.
I was traveling Friday so I didn't have a feel for what happened during the day until this morning. The major market indexes that I follow, the NASDAQ composite, the S&P 400 mid-cap, and the S&P 600 small-cap indexes all look bullish to me. This is no guarantee that they are going to go higher, but when all three indexes close near the high of their intraday ranges, and two out of the three generate volume pocket pivots, I have to lean towards the bullish side. All three indexes are building a cause to go higher.
For the time being selling is still being absorbed by buyers. If this were not the case, the indexes would be closing in the lower of their daily trading ranges, not the upper portion.
The Semiconductor Devices continue to be one the most powerful groups in the database. The semiconductor ETF's dominate my ETF views, there were 25 advancing semiconductor stocks to only five decliners, and the Semiconductors Devices and the Semiconductor Manufacturing groups are both in the top five groups of my most in demand groups based upon the combo ranking. The semiconductors also dominate the top 50 GIR and the Stocks and Groups Moving to the Upside SmartGroup. If you go back through my market reports for the past couple of months, you will find that the semiconductors have been at or near the top of the demand list on many occasions.
These are the top 10 Semiconductor Devices as of Friday's close based upon my demand combo. Most of them look like they want to go higher. Note that all have either A or B accumulation.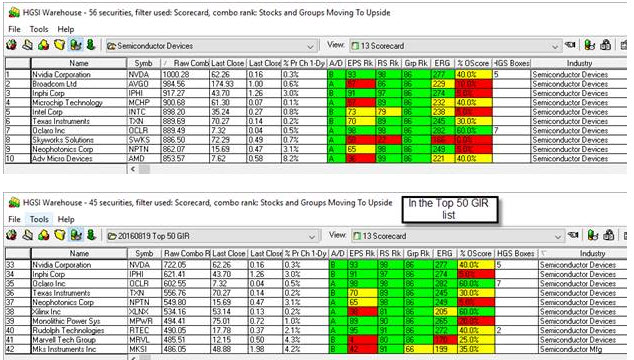 The lower group is Semiconductor stocks that made the Top 50 GIR list today. There is some overlap, and NVDA is the clear leader in the Semiconductor space. There is NO better program available than HGSI to locate groups on the move and relative strength of the groups and the stocks contained in the groups. 
The bias remains to the upside for the major market indexes. Stock index futures are down slightly this morning, and it probably has something to do with a stronger dollar and weaker oil prices. Crude light is currently trading down 2.4% after exhibiting uncertainty on Friday. If you look at Friday's candle you will see a Spinning Top candle with wicks above and below. This indicates uncertainty, and the futures are reflecting that today.
STOCK MARKET EARLY MORNING INSIGHTS
Stock Market Early Morning Insights is a product of Ron Brown Investing. The complete report and all the charts are produced daily before the market opens and distributed by email to subscribers. Reports published on the HGSI Blog are delayed and do not contain all the charts.  For more information about subscribing use this link. MORE INFO