Stock Market Early Morning Insights – August 3, 2016
Stock Market Early Morning Insights – August 3, 2016
Yesterday was the first day in quite some time that we've seen real damage done to the major market indexes. The NASDAQ composite held up relatively well with decliners only leading advancers by a 3.09 to 1 margin. When the number of decliners over advancers gets up in the 4+ range, the indexes are in real trouble.
The S&P 400 mid-cap and the S&P 600 small-cap indexes both suffered much more damage than the NASDAQ composite. Both generated strong negative VPA flags, and the internals were much worse running about seven declining stocks for every advancing stock. The S&P 1500 came in at about 6.2 to 1 negative. With these kind of numbers, we have to sit up and take notice, and be aware that this may be the beginning of a pullback.
The NASDAQ composite is still well above support of its breakout level of 4980, and the same holds true for the S&P 400 and the S&P 600 which would have to test their breakout levels of 1526 and 727 respectively.
A one-day pullback does not mean the beginning of a change in trend, but stops or alerts to sell should be in place if the indexes and groups roll over. There was not a single sector with more advancing issues than declining issues, and surprisingly, the Energy sector was the strongest. One thing that does concern me was the weakness in the Semiconductor Devices group which has been one of the leading groups in this rally.
Money continued to flow into the Precious Metal Mining group, and Biotech and Specialty Pharma along with Application Software groups held up relatively well. With oil struggling to stay near the $40 level, Exploration and Production stocks were soft along with Oil and Gas Services and Equipment stocks. The Integrated Oil stocks which are beaten down, show some strength yesterday.
Today is another heavy earnings reporting day with over 300 stocks reporting. Tesla reports after the market closes today, which I'm sure will provide after market volatility. TSLA is in a consolidation mode waiting for earnings. The moving averages are all wound tight, and I expect a strong move one way or the other after earnings.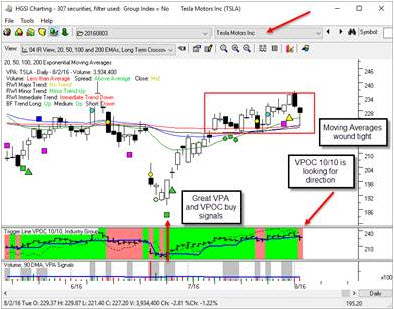 Stock index futures are negative, but are improving. Crude light is slightly below $40, and Gold futures have fallen sharply during the last few minutes. The ADP employment report was just released, and it must have affected Gold futures.
The E-mini's have all improved substantially since I began this report. The trends remain up for stocks, but yesterday was an alert that the rally may be losing steam.
STOCK MARKET EARLY MORNING INSIGHTS
Stock Market Early Morning Insights is a product of Ron Brown Investing. The complete report and all the charts are produced daily before the market opens and distributed by email to subscribers. Reports published on the HGSI Blog are delayed and do not contain all the charts.  For more information about subscribing use this link. MORE INFO