Stock Market Early Morning Insights – August 4, 2016
Stock Market Early Morning Insights – August 4, 2016
Oil and Gasoline helped drive the indexes higher yesterday after a surprising drawdown in gas inventories. As you know, the oil related stocks and crude light futures have been in a downtrend, but yesterday's news sparked a 4% rally. The big question is, of course, was thid just a one-day event, a short covering rally, or will we see base building and a short-term trend emerged to the upside? So far this morning, oil futures are not carrying through, but are essentially flat. Overnight crude light futures traded as high as $41.41, but are currently trading at $40.74.
HGSI responded to the sudden shift in the energy market as the Exploration and Production stocks started showing up in my pie charts using the Intraday Wolf Packs view under the intraday files. This is the chart at the close, but the Exploration and Production stocks were showing up most of the day and were the leaders along with Bank, Biotech and Specialty Pharma stocks. I don't know how many of you use this view intraday, but if you want a quick feel for what's going on in the market both to the up and the down sides, these filters and views work great for that purpose.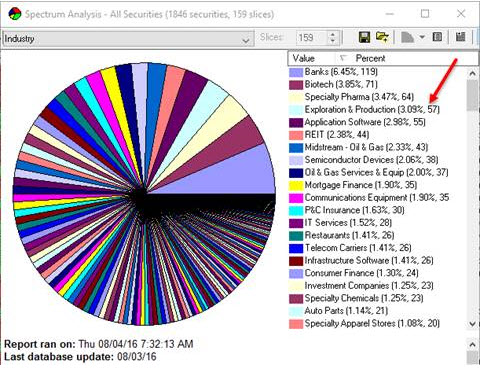 The NASDAQ composite shook off the negative candle from the prior day and closed at the top of its daily trading range on above average volume. The Dow Jones industrial average and is a seven day losing streak, but I rarely pay any attention to the DJIA as an index, because it only contains 30 stocks is not really representative of the market. The S&P indexes and the NASDAQ composite are much more representative because they are broader based.
As I have mentioned many times, earnings season really is a crap shoot. This is not a scientific study, but it is a HGSI Group Performance Analysis of the stocks that have reported since Alcoa opened the earnings season. I just took my group of earnings out stocks and ran them beginning July 12, the day after Alcoa reported, through last night, and you can see that the gainers slightly outperform the losers. As I said, this is not a scientific study because I would have to go in on each individual stock to calculate the gains and losses from the reporting date until now. On the other hand, this is a decent snapshot to suggest that stocks have about a 50-50 chance of going up or down during earnings season.

Stock index futures are up slightly this morning, oil futures are unchanged, bond futures are up nearly ½ point, and gold futures have regained their losses from yesterday. The bias for all of the stock indexes remains to the upside.
STOCK MARKET EARLY MORNING INSIGHTS
Stock Market Early Morning Insights is a product of Ron Brown Investing. The complete report and all the charts are produced daily before the market opens and distributed by email to subscribers. Reports published on the HGSI Blog are delayed and do not contain all the charts.  For more information about subscribing use this link. MORE INFO