Stock Market Early Morning Insights – August 5, 2016
Stock Market Early Morning Insights – August 5, 2016
Another jobs report day is upon us and will once again determine the direction of the stock and bond futures after the numbers are released to 7:30 AM central time.
The economists are predicting that up 180,000 jobs were created last month, and the unemployment rate fell attentively percent from 4.9 to 4.8%. If these numbers are well off the mark, expect some extreme volatility. The E-mini futures are positive one half hour before the employment numbers are going to be released.
Yesterday oil continued its bounce, but oil futures are down .72% this morning. The stock indexes did little yesterday, but there was continuing strength in the tech sector. Semiconductor devices bounced back with 25 advancing stocks compared to only five decliners in the SOX. The entire tech sector seems to be doing well, and that will have to continue for the market to continue higher. The NASDAQ composite managed to have another slightly positive day, but the common stocks within the index were slightly negative. Volume was slightly above average.
Precious Metals and Mining stocks continued to be the dominant group in the stocks and groups moving up SmartGroup. Communication Equipment, Semiconductor Devices, Medical Devices, Application Software and E-Commerce Discretionary stocks were also strong. Restaurants continued to show weakness, and the Healthcare sector was soft yesterday.
The stock indexes are holding up very well so far. The ES E-mini's bounced off of their 20-day exponential moving average and clearly remain in an uptrend. The same picture emerges for the SPY. The NDX, the ETF for the NASDAQ 100 stocks has gone parabolic over the past couple of months, but it is holding strong well above its 20-day exponential moving average. It is trading at resistance levels established last November and December, so if it breaks through these levels with conviction, stocks could go a lot higher.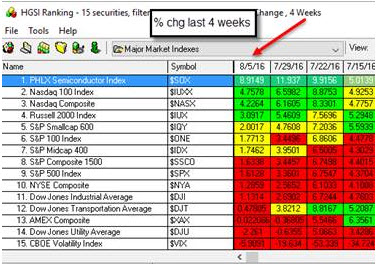 As we all know this can change in a hurry, but for now the stock indexes all remain up. If you look at the charts for the S&P 400 mid-caps and the S&P 600 small-caps, you will see that they are struggling when compared to the NASDAQ composite and especially to the NDX. These charts clearly show that the leadership in this market is currently in the big tech stocks.
Have a good weekend.
STOCK MARKET EARLY MORNING INSIGHTS
Stock Market Early Morning Insights is a product of Ron Brown Investing. The complete report and all the charts are produced daily before the market opens and distributed by email to subscribers. Reports published on the HGSI Blog are delayed and do not contain all the charts.  For more information about subscribing use this link. MORE INFO