Stock Market Early Morning Insights – July 21, 2016
Stock Market Early Morning Insights – July 21, 2016
The NASDAQ composite broke above its flag on heavier volume, but surprisingly internals were only 2 to 1 positive. The large Tech stocks had a good day, and Semiconductor Devices continue to lead. Biotech's and Healthcare stocks also had a good day as did Application Software stocks. The S&P 400 mid-cap and the S&P 600 small-cap indexes continued to trade on light volume as their flags continue to build.
The stock indexes certainly have a bullish tone as risker stocks lead. Utilities and other Defensive Stocks fell to the bottom of my list with decliners leading advancers. Right now it looks like the path of least resistance is up, especially if the Tech stocks continue to lead.
The Semiconductor Devices have been one of the leading groups in this move up, and as a group the move began on July 7. The index only represents stocks five dollars and above, but some of the biggest gains in the group have come from stocks trading for under five dollars. An inexpensive stock you may want to look at is KEM, which reports on July 28. One of the leading stocks in the group is MXL which is appeared multiple times in the top 50 GIR. INTC reported yesterday and be to earnings estimates. It is currently trying to break past resistance from December, but it is trading down one dollar in the premarket from yesterday's close.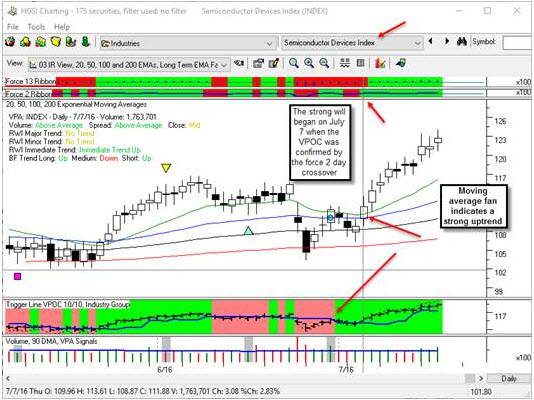 This morning, stock index futures are mixed with the ES E-mini's hovering around the zero line, the YM E-mini's down slightly, and the NQ E-mini's slightly positive. Crude light held the $45 level yesterday after reversing as quickly as it fell, and is trading at $45.50 this morning. Gold and Precious Metal and Mining stocks have lost their momentum, but gold futures are up slightly this morning. These stocks have had a long run and appear to be tiring while money flows into tech and Biotech stocks. The market bias remains to the upside for the stock indexes.
STOCK MARKET EARLY MORNING INSIGHTS
Stock Market Early Morning Insights is a product of Ron Brown Investing. The complete report and all the charts are produced daily before the market opens and distributed by email to subscribers. Reports published on the HGSI Blog are delayed and do not contain all the charts.  For more information about subscribing use this link. MORE INFO