Stock Market Early Morning Insights – June 7, 2016
Stock Market Early Morning Insights – June 7, 2016
The overbought and artificially inflated indexes continue to rise. Any hint of slowdown in world-wide economies creates hesitation by the Fed to raise interest rates, therefore traders continue to push the indexes higher.
The rotation and recent strength continues to be in the Biotech, Specialty Pharma, and Energy stocks. Some Internet Media stocks are also doing well with WB, Weibo Corporation, as one of the leaders. WB has an RS Rank of 99, and an EPS Rank of 93. The Grp Rk is poor at 36. This is an example of a stock that would be eliminated by stringent screening in a filter if a strong group number is required.
WB has appeared in the Top 50 GIR 32 times since March, and now looks like it may be close to a climax run. It is in the Top 50 GIR again today along with FB, and a small cap stock MEET which is now extended.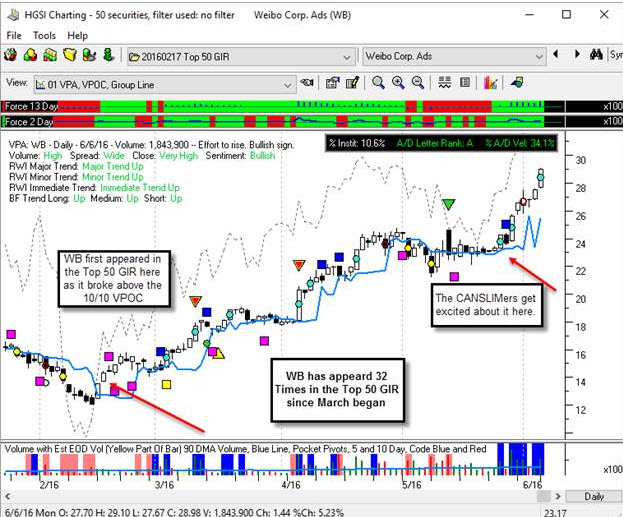 This is just one more example of a stock that has consistently appeared in the Top 50 GIR and the Top 50 an excellent stand-alone prospecting tool.
Stock futures are higher this morning, but are off their highs. Crude light is up another 1%, gold is down. VRX reported this morning and was immediately hit for a 10% loss on poor earnings. This may affect the Biotechs today.The indexes are up against resistance, so it is not a given that they will break out to all-time highs anytime soon, but the trends remain up.
If you didn't watch my video from yesterday on intraday wolfpacks, it is worth watching. I have had several positive comments about it, and it shows the power of HGSI. Link to the video:  https://youtu.be/XZXMOwlCx_s
STOCK MARKET EARLY MORNING INSIGHTS
Stock Market Early Morning Insights is a product of Ron Brown Investing. The complete report and all the charts are produced daily before the market opens and distributed by email to subscribers. Reports published on the HGSI Blog are delayed and do not contain all the charts.  For more information about subscribing use this link. MORE INFO