Stock Market Early Morning Insights – March 21, 2016
Stock Market Early Morning Insights – March 21, 2016
---
TECH TALK… This is the 4th webinar on the HGSI Volume Price Analysis Suite of Indicators. "HGSI Volume At Price (VAP)" Wed, Mar 23, 2016 4:30 PM – 5:45 PM EDT  REGISTER HERE
---
Both the Dow Jones Industrial Average and the Standard & Poor's 500 indexes are now positive for the year. The W bottom proved to be more powerful than expected, and although the stock indexes are in an extremely overbought situation, all trends remain up for the major stock indexes. This is visible in the Major Markets Plus folder in the body of this report.
In the same folder the VIX, in addition to two ETF's, the IBB, the iShare Biotech ETF, and the UUP, the Dollar index ETF, remain in strong downtrends. The IBB was up 1.7% on Friday, and there was also strength in the Healthcare groups and sector, so positive rotation has begun to emerge in beaten-down Healthcare stocks. If this market is going to continue higher, the Healthcare Sector could lead the way.
Overbought signals are everywhere including stocks trading at the high-end of their percent B or Bollinger Band ranges, accumulation versus distribution in the industry groups, and percentage gains from the low established on February 11. The indexes are also running into strong resistance areas to the left on their charts.
The NASDAQ composite closed at 4795.65 on Friday, and is still about 200 points below the heaviest resistance at 5010. This Volume Point of Control chart shows where the heaviest resistance will be if the index reaches that level. I do not see how it can continue much higher without some backing and filling, but anything is possible. The shorts are feeling the pressure, and if they decide they can't take the pain anymore, they will turn into buyers which will drive prices higher..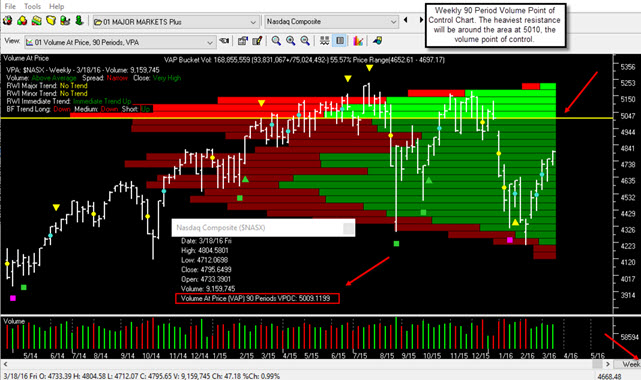 The NASDAQ composite is not the strongest major market index, in fact, it is one of the weaker indexes because it is still down 4.2% from the beginning of the year. Compare this to the Dow Jones Utility Average, which admittedly is a very small index of only 15 stocks, but it is up 14% for the year. The Utilities Sector Index, which is an equal dollar weighted index that contains over 100 stocks is up 9.2% for the year.
Stocks need a rest, and after Friday's quadruple witching expiration, which closed out five consecutive weeks of gains, maybe we will see some backing and filling this week. I am going to be watching the Healthcare Sector for some potential long side trades. With that said, all trends remain up.
Stock futures are down slightly this morning.
ABOUT STOCK MARKET EARLY MORNING INSIGHTS
Stock Market Early Morning Insights is a product of Ron Brown Investing. The complete report and all the charts are produced daily before the market opens and distributed by email to subscribers. Reports published on the HGSI Blog are delayed and do not contain all the charts.  For more information about subscribing use this link. MORE INFO