Stock Market Early Morning Insights – March 22, 2016
Stock Market Early Morning Insights – March 22, 2016
---
TECH TALK… This is the 4th webinar on the HGSI Volume Price Analysis Suite of Indicators. "HGSI Volume At Price (VAP)" Wed, Mar 23, 2016 4:30 PM – 5:45 PM EDT  REGISTER HERE
---
The early morning terror attacks in Brussels, Belgium shook stock markets in Europe, but most are trading off of their intraday lows, although they appear to be heading back down again. We live in a very uncertain and dangerous world, and unfortunately, news of terrorist attacks has almost become commonplace.
News of the attacks created a spike in gold futures, but they have backed off the highs and are currently trading at only 45% of its daily range. Gold has looked weak for the past few days after a huge spike higher on March 16, but the volume was only moderate on that spike. The dollar index is slightly higher this morning, which is having a moderately negative affect on crude light prices which are down.
Yesterday was a nonevent for the broader stock market indexes even though many of the indexes registered slight gains. Volume was less than average as the indexes drifted throughout the day. Internals were flat.
Yesterday I suggested that rotation was occurring into the Healthcare Sector, Biotech and Specialty Pharma stocks. There was some follow-through to Friday's initial accumulation, and if the indexes don't go into correction mode, I would expect that more money will flow into those beaten-down groups. If that happens, shorts will have to begin to cover which will only intensify the buying.
This pie chart is from an old view of mine under the Woodward and Brown Wolfpack's folder and gives insight into group rotation closest to the market. The filter and combo ranking locate Wolfpacks, or stocks in groups that are moving together. The stocks had to be up for the day, along with the groups. As you can see, the dominant groups up for the day were Biotech and Specialty Pharma. 853 stocks passed the filter, and by far, the majority of the stocks are from the Healthcare Sector. 27.19% of the 853 stocks are healthcare related stocks.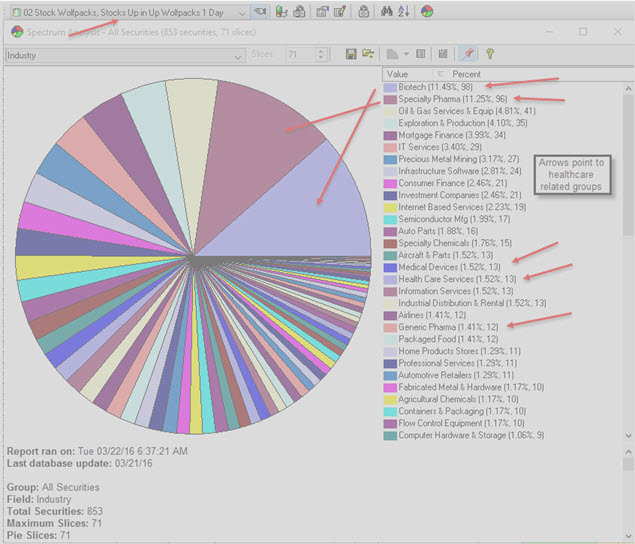 As I've mentioned before, this rally needs a rest, and maybe we'll see that happen today. Stock index futures continue to fall as I write this, and the European markets are also drifting down. The indexes will remain in uptrends, but momentum is slowing slightly. The Bulls are still in command, but the small spreads on the candles are narrow. On the positive side for the NASDAQ composite, the closing prices continue to be higher than the opening prices, which suggests buyers are still buying intraday dips.
ABOUT STOCK MARKET EARLY MORNING INSIGHTS
Stock Market Early Morning Insights is a product of Ron Brown Investing. The complete report and all the charts are produced daily before the market opens and distributed by email to subscribers. Reports published on the HGSI Blog are delayed and do not contain all the charts.  For more information about subscribing use this link. MORE INFO