Stock Market Early Morning Insights – November 16, 2016
Stock Market Early Morning Insights – November 16, 2016
The large cap tech stocks bounced yesterday and helped the NASDAQ gets closer to an all-time high. Even though these former leaders made some gains yesterday, they mostly remain in short-term downtrends, and from what I see early this morning, most are going to give back some of yesterday's gains.
When a leading stock has had a sharp selloff, it is rare to see it bounce back immediately because of the fear created by the sharp move down. I do not expect the Canary stocks, AMZN, FB, TSLA, MSFT, PCLN, GOOGL, NFLX, or AAPL to move back up to test their former highs anytime soon. Too much damage has been done, and moves higher will be met with selling resistance as fearful traders and institutions try to regain as much of their losses as possible. MSFT has the best chance to move up to a new high because the selling has been minimal compared to some of the other stocks. TSLA has not been a leadership stock for quite some time now, and should probably be removed from the group.
The rotation and strength has shifted to Steel Producers, Banks, Consumer Finance, Semiconductor Devices, Biotech, Base Metals, and Specialty Pharma. If you scroll down to the industry groups below, you will see the groups that are most in demand as of yesterday based upon my Combo ranking, Stocks and Groups Moving to the Upside. Look to the right of the group at the accumulation column and you will find that these groups have either A or B accumulation. Many of these groups having A accumulation were at D distribution just a few days ago. This is how quickly the Banks index went from D to A. Rose is D distribution while dark green is A accumulation.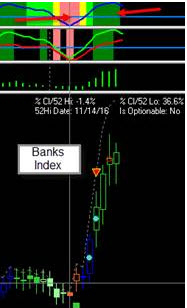 This morning we are seeing a weakening of the stock index futures and crude light futures have backed off 1%. Even though crude had a 2-day bounce, the daily chart remains in a severe downtrend while the weekly chart is in a contraction period. As I mentioned yesterday, I don't believe this rally is sustainable at the current rate of ascent. Once again, look at the S&P 400 index in the S&P 600 index to see how far they have come in a short period of time. As I flipped through charts this morning, I sell very few stocks that I would even consider for purchase. The expansion out of contraction has been too great in too short of a time. The trends remain up for the major market indexes, but we have to be very selective when considering any trades.
STOCK MARKET EARLY MORNING INSIGHTS
Stock Market Early Morning Insights is a product of Ron Brown Investing. The complete report and all the charts are produced daily before the market opens and distributed by email to subscribers. Reports published on the HGSI Blog are delayed and do not contain all the charts.  For more information about subscribing use this link. MORE INFO