Stock Market Early Morning Insights – November 17, 2016
Stock Market Early Morning Insights – November 17, 2016
The NASDAQ composite closed higher for a 2nd consecutive day after a negative opening gap. Volume was once again above average, but down when compared to the previous 6 days. The candle looks impressive closing at 89.42% of its daily range, but the internals were only slightly positive with 1260 advances compared to 1100 decliners.
Not unexpectedly, the Canary stocks were mostly up coming off oversold conditions. Facebook was the only stock in the group that failed to close higher, but it appears to be finding support at current levels. If Facebook takes out Monday's low on a closing basis, it has the potential to go much lower.
The huge movers yesterday were in the Marine Shipping group. The group has been showing up for the past 3 days in the Stocks and Groups Moving to the Upside SmartGroups. Some of the stocks within the group moved up dramatically yesterday as it was a feeding frenzy, and short covering. Suddenly, traders think that worldwide shipping is going to pick up overnight because of a Trump administration. Many of these stocks went from oversold to overbought in a matter of days. Check out some of these ridiculous percentage gains over the past 5 days.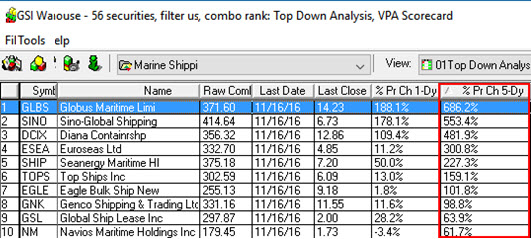 The stocks have been basing for months, and were looking for an impetus. Trump's election provided the energy, but there is no justification for moves like this.
The major indexes are bullish, but I believe they have come too far too fast. The S&P 400 mid-cap in the S&P 600 small-cap indexes could be forming potential flags. The flags are building on volume pullbacks in both indexes as traders digest their gains.
Yesterday, as a group the Biotech stocks gave back some of their gains as money flowed back into Semiconductor Devices. You can see that the dominant group in the top 50 GIR is Semiconductor Devices. The group is led by NVDA, which broke out to an all-time high after forming a flag. NVDA reported great earnings a few days ago, formed a buyable gap, and broke past resistance yesterday.
Stocks futures are flat this morning. All trends are up, but risk, as usual, remains high.
STOCK MARKET EARLY MORNING INSIGHTS
Stock Market Early Morning Insights is a product of Ron Brown Investing. The complete report and all the charts are produced daily before the market opens and distributed by email to subscribers. Reports published on the HGSI Blog are delayed and do not contain all the charts.  For more information about subscribing use this link. MORE INFO