Turn Around Tuesday On Deck? HGSI Doc 12.18.2018
Turn Around Tuesday On Deck? HGSI Doc 12.18.2018
The futures started out great last night but have given most of the gains back after the Chinese Premier began speaking.
Markets can move much more than one anticipates and oversold is just a relative term. That said the convergence of the Fed speech and a potential short term bottom / reversal is some coincidence. Today was quite a disappointment after a strong start to the afterhours. Now what will tomorrow bring? Is Santa coming or will Powell be the Grinch that stole XMAS.
As we saw in 2008, oversold markets can become more and more oversold. That said with the convergence of these patterns, Santa Claus and a likely increasingly dovish Fed (rate hike or not) just maybe there will be a little holiday cheer for the bulls. Of course, this will just set stocks up at better levels to short from.
Happy Holidays
Jeffrey
Below are 3 views from 3 different programs that show we are getting extremely oversold and at a point where we are near where the market often bounces.
NOTE: CLICK IMAGES FOR FULL SIZE CHART
HGSI – note that the level of stocks in the SP1500 that are below the major moving averages has reached annual lows and at points that bounces have occurred.. I also see a Phoenix which when it occurs after a large move it might signify that there is exuberance to the downside which might be contrarian.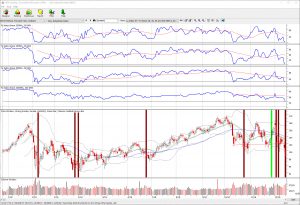 Edgerater shows a huge oversold picture with 95% of stocks below their midline of their respective Bollinger Bands, 30% of stocks below the Bollinger Bands and another 30% just above their Bottom Bollinger Bands: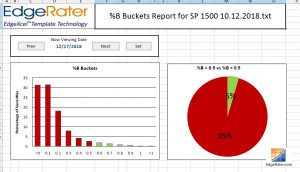 TC2000 T2121 View showing number of 3 month Highs to 3 month Lows. Today we are sitting at 8 year lows, again demonstrating the degree of Oversold.
Dr. Jeffrey Scott
Independent Investor who free shares his experience and  knowledge of  investing through education.
 Affiliate of HGSI Investment Software llc